Foldable Samsung Galaxy X smartphone to get 7.3-inch screens and flexible batteries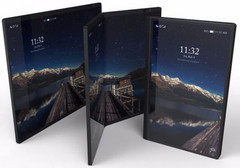 Latest rumors claim that Samsung's first foldable phone - the Galaxy X - will be getting flexible batteries with capacities between 3,000 and 6,000 mAh. The foldable 7.3-inch OLED displays that will be featured with the Galaxy X are scheduled to enter production later this summer, and the devices should be ready for launch in Q1 2019, along with the Galaxy S10 models.
Every major mobile phone maker is expected to come up with a foldable device in 2019, and latest rumors point out that Microsoft is almost ready to unveil its model. Meanwhile, Chinese companies could steal the show and release more affordable models by the end of 2018. Samsung is also among the major brands that should release a foldable device in 2019, with rumors about the Galaxy X smartphone making the rounds since April 2018. Now that mid-2018 is here and the expected release date is drawing near, new Chinese and Korean rumors concerning the specs of the Galaxy X emerge, presenting truly revolutionary technologies.

If we are to believe the latest Korean rumors, the foldable panels for the Galaxy X smartphones are supposedly scheduled to enter production this summer so that they could be ready for the early 2019 release. These OELD displays are said to be 7.3-inch wide while unfolded and 4.5-inch in folded state.

Moreover, a Chinese rumor claims that Samsung SDI is already manufacturing the batteries for the Galaxy X model. These new batteries will come in large capacities, most likely between 3,000 and 6,000 mAh, and will have a curved flexible design in order to go along with the foldable display of the Galaxy X.

Since this is the first flexible device in the Samsung portfolio, prices for the Galaxy X are expected to be just shy of US$2,000. If you are looking for more down to earth prices, Samsung is expected to launch the Galaxy S10 around Q1 2019, as well.