LG wants in on the foldable smartphone action too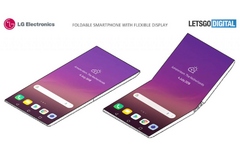 A patent for a new foldable LG smartphone has surfaced. Unlike the impending Samsung Galaxy X, which folds into a quasi tablet, LG's approach is more akin to a foldable flip phone that fold small enough to comfortably fit into a shirt pocket.
With smartphones technology maturing, companies are scrambling to come up with what might be the next big thing. Foldable smartphones could be it, and LG looks like it wants to get a slice of that action. A new LG patent has surfaced showing a design that looks like a futuristic flip phone.
LG, it should be remembered, has been a leader in developing flexible pOLED panels that are able to bend thanks to the use of a plastic substrate instead of glass. Its LG Flex and Flex 2, both of which were interesting, but ultimately failed experiments, were among the first smartphones with curved displays available on the market.
The new design won't quite fold completely flat, but would be compact enough to fit in a shirt pocket. It uses a variable length hinge that has an outer section that bends in a way that accommodates the limitations of the flexible pOLED panel, but still effectively allows the device to fold into half its normal size.
Samsung's impending Galaxy X is said to be an expensive limited run model; it wouldn't surprise to see LG taking a similar approach.