LG files for "Folds" and "Arc" trademarks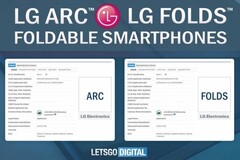 While there is no official statement regarding LG's plans for foldable and bendable devices, at least they are going for two names. The South Korean OEM has recently filed for two new trademarks and none of them seems to bring anything new to the market — "Arc" and "Folds" are not the most original names they could have come up with.
The companies who are not into the foldable game yet have no solid reasons to worry for now, since the Samsung Galaxy Fold has managed to prove once again that sometimes not being the first one to push new technologies on the market is a wise choice. However, not being the first provides enough time to choose a smart name for your upcoming products, but LG has apparently failed to come up with well-chosen names for its foldables.
LG's latest trademarks are weak, without a doubt: "Arc" and "Folds" might draw lawsuits from Microsoft and Samsung for good reasons. After all, "LG Folds" and "Samsung Galaxy Fold" sound quite similar, and the Microsoft Arc peripherals are also far from being some products that nobody has ever heard of.
In the past, LG has trademarked a few other — much better, we must add — names: Flex, Foldi, Duplex, and Bendi. No matter the name of LG's upcoming foldables, they will have to face two big enemies that have been revealed already — but both have been also delayed and are not available for purchase yet: the Samsung Galaxy Fold and the Huawei Mate X.
Would you grab a foldable by LG instead of choosing to go with Samsung or Huawei? Are you one of those who think that it is still too early for handsets with foldable touchscreens? As usual, the comments section is all yours, so do not be afraid to use it.