Sony CES event official for January 7, XA3 and XA3 Ultra expected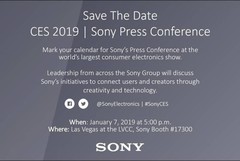 Sony has announced that it will be holding a press conference on January 7. The CES even will feature top Sony executives from across the company with the Xperia XA3 and XA3 Ultra expected to be among the announcements.
Sony is the first of the big tech companies to officially announce its first press event for 2019. It has issued an invite to the media for a January 7 conference to be held at CES 2019 Las Vegas. The teaser says that we can expect to hear from the company's top executives about its plans to "connect users and creators through creativity and technology."
Among the expected announcements Sony is expected to make will the launch of its XA3 and XA3 Ultra premium mid-range smartphone offerings. Not a lot is known about the XA3 at the moment (except for the leaked render below), but like the XA3 Ultra, it is expected to make the jump from a Snapdragon 630 to at least a Snapdragon 660. A Snapdragon 670 also remains a possibility. The 6-inch plus XA3 Ultra could also pick up 6GB of RAM if the rumor mill is to be believed.
Also, a possibility for Sony's event is the new L3 mid-range smartphone. This is expected to be a mid-range device with a smaller 5.7-inch display with a 720 x 1440 HD+ resolution. With Sony among the first to update its current range of smartphones to Android 9 Pie, we expect all three devices to go on sale in February with Google's latest and greatest OS onboard.
Among the other products Sony is expected to reveal include its next-generation of Smart and OLED-based TVs, new cameras, video and audio gear. We still hold out hope that Sony could launch a new Xperia tablet, but it looks like the company might have decided to quietly bow out of that market. If you're hoping to hear more about the XZ4, its announcement might be held over to MWC in February.