First CAD-based renders of Sony Xperia XZ4 surface: No notch, three rear cameras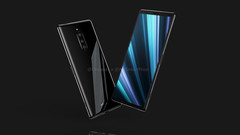 Renders based on leaked information of the Sony Xperia XZ4 have surfaced, courtesy of Steve Hemmerstoffer (@OnLeaks) and MySmartPrice. The renders show some notable design shifts, such as a flat front display, a triple-camera setup on the back, and a fingerprint sensor integrated into the power button on the side. Note that these renders are based on rumors and leaks and should be taken as such.
Sony may have just launched the Xperia XZ3, but eyes are already turning to the Xperia XZ4. Noted smartphone leaker Steve Hemmerstoffer (@OnLeaks on Twitter) has partnered with MySmartPrice to unveil CAD renders of the Xperia XZ4, giving some hints at possible design changes Sony may take with their upcoming flagship.
The Xperia XZ4 will have some notable changes from the Xperia XZ3. The renders speculate that the XZ4 will have a 6.5-inch 18:9 display with no notch, similar to the 6-inch XZ3. However, the XZ4 will eschew the curved glass of the XZ3 for a flatter front profile, much like older Xperia devices. Also like its forebears, the XZ4 renders show a fingerprint scanner that has migrated back to the side of the phone instead of the rear.
The renders show the XZ4 with a larger footprint but thinner profile than the XZ3. The XZ4's case measures 166.9 x 72.4 x 8.2 mm. For reference, the XZ3 measures 158 x 73 x 9.9 mm (per our review). There is currently no word on the XZ4's weight, but it will probably be a bit heavier than the 193 gram XZ3.
The biggest change, according to these renders, is the triple-camera setup on the back. Sony stayed off the multi-camera bandwagon with the XZ3, but they may be jumping on full force with the XZ4. The triple-camera rig will introduce a slight camera bump along the back, adding about 0.8 mm to the phone's profile (totaling 9 mm at this point).
The XZ4 renders have the same buttons and connectivity as the XZ3. That means Sony's trademark dedicated camera button is here, as are the standard power button (with an integrated fingerprint reader) and volume rocker. The phone will have a USB Type-C port and SIM card try on the bottom, but the headphone jack is still gone (and probably will not return).
As with all rumors, these renders should not be taken as absolute truth. Sony could certainly have a different design than these renders portray. However, Hemmerstoffer has a decent track record; he correctly guessed the redesign of the new iPad Pro. That said, there's a good shot this may be the phone we expect Sony to announce at MWC 2019.