Details of the upcoming Sony Xperia XA3 surface - Dual rear cameras, side-mounted fingerprint reader, USB Type-C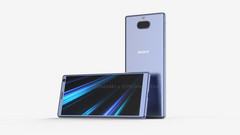 Initial CAD renders of Sony's upcoming Xperia XA3 mid-range phone have surfaced. The device will sport dual rear cameras, a side-mounted fingerprint sensor, and a clean, eye-catching design.
Sony released its mid-range Xperia XA2 and XA2 Ultra earlier in the year. The previous devices in the lineup weren't exactly the most attractive offerings in their price class but the XA2 managed to turn that around, as it offered decent value for money. Sony will be hoping to continue its good work with a direct successor to the device, and details of the next-gen mid-ranger have surfaced.
According to the leaked renders, the XA3 will offer the same flat, rectangular design factor Xperia phones have become synonymous with. It's expected to sport a 5.9-inch FHD+ display. There is no notch at the top of the device but we get a sizeable top bezel and an equally large chin to go with it. Sony phones have never been known for having modern designs, in any case, so it's about expected.
The front of the XA3 houses just the one selfie camera while the rear sports two sensors, a welcome development since Sony has eschewed dual rear sensors for a while now. The rear cameras are mounted in the upper middle of the device's rear but are sadly not flush with the rear panel.
The right side of the XA3 holds the power and volume buttons, and it would appear that the power button also doubles up as a side-mounted fingerprint reader. The left side of the device houses the sim tray. At the bottom are the speaker grills—one of which may just be a dummy—and a USB Type-C port. At the top is the much-needed headphone jack.
It's unknown what the internal specifications of the Xperia XA3 will be but we'll be sure to keep you updated.