Qualcomm Snapdragon 660-powered Sony Xperia XA3 hits Geekbench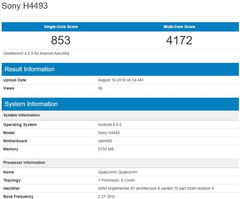 Although the Sony Xperia XA2 arrived in January 2018, it seems that its successor will hit the market before the end of the year. A handset that is rumored to be the upcoming Xperia XA3 was recently spotted on Geekbench as the Qualcomm Snapdragon 660-powered Sony H4493. This handset sports 6 GB of memory and runs Android 8.1 Oreo.
In early 2018, Sony introduced the Xperia XA2 compact mid-range smartphone. Now, we hear that a successor is almost ready to hit the market since the H4493 handset that has just been spotted on Geekbench is rumored to be the upcoming Sony Xperia XA3.
While the 5.2-inch Xperia XA2 sports a Qualcomm Snapdragon 630 processor and 4 GB of memory, the Xperia XA3 — if the H4493 turns out to be it, of course — will bring a few noticeable improvements. According to the Geekbench listing mentioned above, this handset has a Qualcomm Snapdragon 660 processor inside, 6 GB of memory, and runs Android 8.1 Oreo. Since it might be unveiled in just a few weeks at IFA 2018, it would not be surprising for the Xperia XA3 to come with Android 9.0 Pie out of the box.
In addition to the above, it is rather safe to assume that the Xperia XA3 will come with an edge-to-edge display with a 2:1 ratio (2,160 x 1,080 pixels, up from the standard 1080p resolution provided by the display of the Xperia XA2).
All the above should be taken with a grain of salt for now, but the Xperia XA models released until now were always named H4xxx, so we should get ready for the official announcement and — if we are lucky — some teasers as well.