Nubia Red Magic 3S powered by Snapdragon 855+ up for pre-orders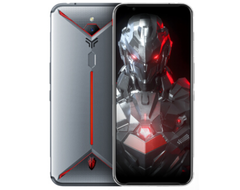 Upgraded with a Snapdragon 855+ SoC, improved liquid cooling solution and USF 3.0 storage, the Red Magic 3S from Nubia is scheduled to begin shipping on September 9 in China. As per usual, Nubia is looking to maintain aggressive prices, and the latest model is no exception, as the flagship variant costs ~US$531.
Nubia sure likes to keep its gaming models refreshed with the latest hardware, as it has been launching new variants every quarter in the past year. Not surprisingly, the Red Magic series is now getting another upgrade, just after 4 months from the Red Magic 3 launch. This time around, Nubia updated the SoC, storage and cooling system.

As far as design goes, the Red Magic 3S only adds a Y-shaped air intake to match the style of the back plate (also available in silver now). This ties in with a redesigned internal cooling system for the improved SoC, which now includes a liquid cooling tube with fan. Nubia claims that the new cooling system can lower system temperatures by up to 18 degrees Celsius.

The 6.65-inch FHD+ AMOLED display remains the same, along with the unchanged 48 MP main shooter and 16 MP selfie cam. For the upgraded components, the most notable are the Snapdragon 855+ SoC coupled with 8 or 12 GB of RAM (no 6 GB version this time around), while the 128 or 256 GB of storage have now been upgraded to UFS 3.0. The RedMagic OS was also updated to version 2.1.

Pre-orders are already open on the JD.com site and the shipping dates are scheduled for September 9 in China only, for the time being. The 8 GB / 128 GB model is priced at around US$419, whereas the 12 GB / 256 GB one costs ~US$531. As always, Nubia is expected to launch these models in other parts of the world after a few months.