MediaTek doubling down on voice activation technology, is considering voice activated cars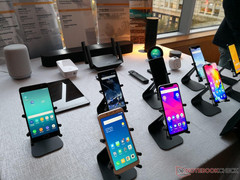 Instead of battling it out at the very high-end smartphone market dominated by Samsung and Apple processors, MediaTek is taking a tangent into the world of voice activation. The move has paid off as the majority of voice activated products are powered by MediaTek SoCs with even more to come in the near future on everything from microwaves to cars.
Working For Notebookcheck
Are you a techie who knows how to write? Then join our Team! Especially English native speakers welcome!
Currently wanted:
News and Editorial Editor - Details here

Voice activation and automation play key roles in the future of smarthomes. Products like the upcoming Amazon Echo Auto and Google Assistant show that voice controls can have a place in an always-connected lifestyle.
Unbeknownst to most, MediaTek is at the forefront in voice activation as it holds the top spot in terms of market share for voice activated products. Popular hands-off assistants like the aforementioned Echo are powered by MediaTek SoCs even though MediaTek itself does little to advertise this fact. During a press event in San Francisco, MediaTek Director of Corporate Sales Russ Mestechkin made it clear that this is intentional in order to push more MediaTek-powered products at lower mainstream prices.
The approach is in stark contrast to Intel and Nvidia who often boast about their highly advanced mobile processors as much as they do about the actual products themselves. The additional marketing effort bumps up prices that would have otherwise been lower.
MediaTek's strong foothold in voice activation may eventually lead to automobiles with built-in MediaTek SoCs according to the spokesperson. A consolidated ecosystem of voice activated speakers, cars, microwaves, and other common appliances without first needing a specialized secondary device is the eventual goal.