When Intel's supply problem became apparent earlier this month, US retailers were not initially affected. However, even before then, prices were steadily increasing in the UK, as evident in PCPartPicker's pricing history for the 8700k. Across several major UK retailers, prices were ramping up as early as August, and the 8700k is approaching a price point of £500, a massive increase over what it used to be.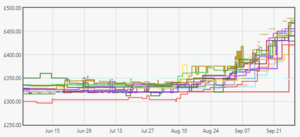 (Source: PCPartPicker UK)
However, by the time JP Morgan claimed Intel would not have enough CPUs to meet demand, US prices were still as low as they had been in the past. However, just days later, prices slowly climbed back up to MSRP and then beyond. They currently sit at $399 at the time of writing on Amazon and other retailers, and they could still go up over the next weeks or so.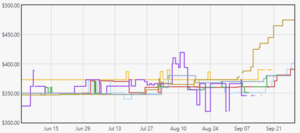 (Source: PCPartPicker)
After disregarding the top yellow line, as it is an outlier, it can be seen that the three lines below represent Newegg (business and consumer) and B&H. Both of these major outlets, as well as Amazon, have started to sell 8700ks for the increased price of $399. In order to combat this shortage, Intel has invested about $1 billion in 14nm production and also promised volume 10nm production next year. However, owing to the long production times associated with processor production, it may be several months until Intel's investment transforms into increased supply.
Meanwhile, AMD's CPUs, such as its 2700X flagship which is the 8700k's nearest competition, have not seen any significant increase in price in countries such as the US, UK, or Germany. Some expect AMD to capitalize on Intel's lack of supply by picking up demand that would have otherwise been fulfilled by Intel.