Kingston KC600 SSD Benchmarked: More Reason to Ditch that Old HDD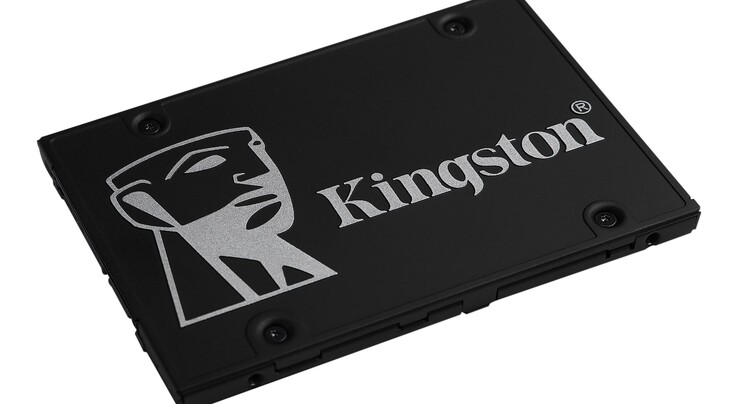 Introduced earlier this month, the Kingston KC600 series of 2.5-inch SATA III SSDs succeeds the older KC400 series aimed at users on tighter budgets. It brings both an updated SM2259 controller and XTS-AES 256-bit encryption at capacities ranging from 256 GB up to 2 TB. The unit we'll be benchmarking here is the 1 TB SKU.
The 256 GB and 512 GB capacities are now available for $44 and $73 USD, respectively, with the higher capacities coming at a later date. A five-year warranty comes standard no matter the option.
See the official product page for the KC600 series here for more information.
| | | | | | | |
| --- | --- | --- | --- | --- | --- | --- |
| Storage Capacity | Max Sequential Read (MB/s) | Max Sequential Write (MB/s) | Read IOPS | Write IOPS | Life Expectancy (MTBF) | TBW |
| 256 GB | 550 | 500 | 90K | 80K | 1 million hours | 150 TB |
| 512 GB | 550 | 520 | 90K | 80K | 1 million hours | 300 TB |
| 1024 GB | 550 | 520 | 90K | 80K | 1 million hours | 600 TB |
| 2048 GB | 550 | 520 | 90K | 80K | 1 million hours | 1200 TB |
Test System
We use the same Intel NUC8i7BEH mini PC that we used for the Kingston A2000 since it supports both M.2 and 2.5-inch SATA III drives simultaneously. Installation is as straightforward as one would expect, but keep in mind that the packaging includes no screws or cloning software unless if purchased as an upgrade kit.
See our review on the Intel NUC8i7BEH to learn more about the mini PC.
AS SSD & CrystalDiskMark
The official specifications sheet advertises sequential read and write rates of up to 550 MB/s and 520 MB/s, respectively. CrystalDiskMark 5.5 and AS SSD show we can expect sequential write rates to be closer to the 420 to 460 MB/s range instead. Write and read rates of smaller 4K blocks are faster than what we recorded on the competing SK Hynix Gold S31.
Kingston KC600


SK Hynix Gold S31 SSD


SK hynix Gold S31 1TB

Lenovo Ideapad C340-15IWL-81N5004QGE


SK hynix BC501 HFM128GDJTNG-831

Microsoft Surface Laptop 3 15 Ryzen 5 3580U


SK hynix BC501 HFM256GDGTNG

Dell G7 7590


Toshiba BG3 KBG30ZMS256G

Corsair One i160


Samsung PM961 NVMe MZVLW512HMJP

AS SSD

-22%

-17%

-10%

-96%

128%

Seq Read

447.3

Seq Write

452.1

4K Read

41.69

4K Write

96.5

4K-64 Read

358.1

4K-64 Write

315.1

Access Time Read *

0.037

Access Time Write *

0.034

Score Read

444

Score Write

457

Score Total

1144

Copy ISO MB/s

1062

Copy Program MB/s

621

Copy Game MB/s

717

CrystalDiskMark 5.2 / 6

-14%

16%

50%

-6%

101%

Write 4K

132.8

Read 4K

49.62

Write Seq

416.1

Read Seq

550

Write 4K Q32T1

339.2

Read 4K Q32T1

378.1

Write Seq Q32T1

483.9

Read Seq Q32T1

563

Write 4K Q8T8

343.4

Read 4K Q8T8

372.1

Total Average (Program / Settings)
* ... smaller is better
ATTO
ATTO is useful as it tests a wide range of block sizes to paint a bigger picture of the performance of the SSD. Read and write rates top out at about 530 MB/s and 450 MB/s, respectively, with transfer rates remaining relatively steady until I/O sizes become 8 KB or smaller.
Data Compression
While read rates are steady, write rates are slightly more variable with momentary dips to as low as 314 MB/s. These same dips would occur again after repeat runs.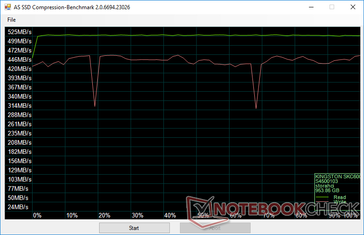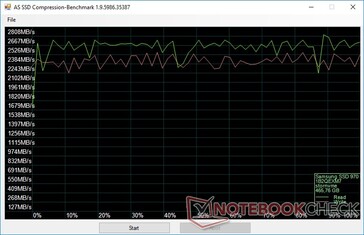 Verdict
At over a decade old, the SATA III interface holds no more surprises. SATA III SSDs nowadays are targeting users still stuck on mechanical HDDs where the performance boost can be over an order of magnitude faster.
If we are to nitpick, however, the sequential write rates of the Kingston KC600 are slightly slower than expected at around 460 MB/s at best. Sequential read and rate rates would ideally be nearly the same at over 500 MB/s each to fully exploit the SATA III interface, but the target audience for these inexpensive SSDs will likely not notice or even care. If you're still sporting a primary mechanical drive, then there's almost no excuse to not upgrade at this point.
After graduating with a B.S. in environmental hydrodynamics from the University of California, I studied reactor physics to become licensed by the U.S. NRC to operate nuclear reactors. There's a striking level of appreciation you gain for everyday consumer electronics after working with modern nuclear reactivity systems astonishingly powered by computers from the 80s. When I'm not managing day-to-day activities and US review articles on Notebookcheck, you can catch me following the eSports scene and the latest gaming news.