Western Digital Blue SN550 NVMe 1 TB SSD Benchmarked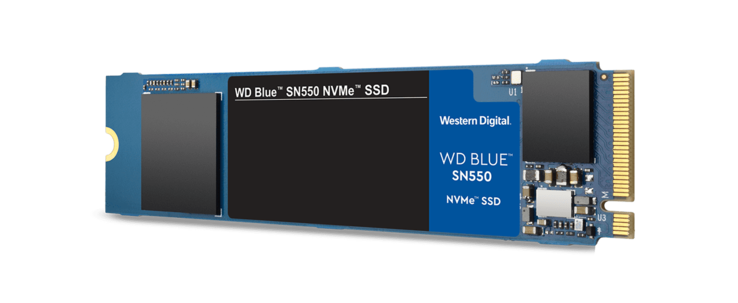 Western Digital announced the Blue SN550 earlier this month as a successor to the Blue SN500 and SN520. The most notable upgrade will be performance: Sequential read rates are now rated at up to 2400 MB/s compared to "only" 1700 MB/s on the SN500. The WD Blue series is aimed at consumers, gamers or content creators on a budget in contrast to the enthusiast WD Black series.
See the official data sheet for the Blue SN550 here. Prices start from $70 to $125 USD with capacities ranging from 250 GB to 1 TB and a 5-year limited warranty.
| | | | | | |
| --- | --- | --- | --- | --- | --- |
| Capacity | Max Sequential Read (MB/s) | Max Sequential Write (MB/s) | Read IOPS | Write IOPS | Endurance (TBW) |
| 250 GB | 2400 | 950 | 170K | 135K | 150 |
| 500 GB | 2400 | 1750 | 300K | 240K | 300 |
| 1 TB | 2400 | 1950 | 410K | 405K | 600 |
Test System
Our test PC will be the Intel NUC NUC8i7BEH. This particular system was chosen because it houses both an M.2 PCIe x4 slot and a 2.5-inch SATA III with easy servicing. Installing the drive is therefore a simple process, but keep in mind that most NVMe drives are not designed to be compatible with SATA III-based M.2 slots.
See our full review on the Intel NUC NUC8i7BEH here to learn more about the mini PC.
AS SSD & CrystalDiskMark
The OEM advertises sequential read rates of 2400 MB/s and we can indeed see those numbers when at a queue depth of 32 with 1 thread according to CrystalDiskMark. Pricier alternatives like the Samsung SSD PM981 can reach almost 3500 MB/s in this same benchmark.
Western Digital Blue SN550 NVMe


Western Digital Blue SN550 NVMe SSD 1 TB WDS100T2B0C

Kingston KC600


Kingston A2000


Kingston SA2000M81000G

Intel NUC8i7BEH Asura NVMe SSD


Asura Genesis Xtreme NVMe M.2 SSD 1 TB

Razer Blade Stealth i7-1065G7 Iris Plus


Samsung SSD PM981 MZVLB256HAHQ

Dell XPS 15 7590 9980HK GTX 1650


Toshiba XG6 KXG60ZNV1T02

CrystalDiskMark 5.2 / 6

-57%

6%

24%

-8%

-1%

Write 4K

234.3

Read 4K

53.1

Write Seq

1978

Read Seq

1102

Write 4K Q32T1

573

Read 4K Q32T1

763

Write Seq Q32T1

2011

Read Seq Q32T1

2355

Write 4K Q8T8

1469

Read 4K Q8T8

1434

AS SSD

-32%

37%

53%

-34%

38%

Seq Read

1852

Seq Write

1322

4K Read

26.84

4K Write

165.7

4K-64 Read

386.4

4K-64 Write

1098

Access Time Read *

0.024

Access Time Write *

0.096

Score Read

598

Score Write

1396

Score Total

2280

Copy ISO MB/s

1496

Copy Program MB/s

799

Copy Game MB/s

1488

Total Average (Program / Settings)
* ... smaller is better
Western Digital Blue SN550 NVMe SSD 1 TB WDS100T2B0C
CDM 5/6 Read Seq Q32T1: 2355 MB/s
CDM 5/6 Write Seq Q32T1: 2011 MB/s
CDM 5/6 Read 4K Q32T1: 763 MB/s
CDM 5/6 Write 4K Q32T1: 573 MB/s
CDM 5 Read Seq: 1102 MB/s
CDM 5 Write Seq: 1978 MB/s
CDM 5/6 Read 4K: 53.1 MB/s
CDM 5/6 Write 4K: 234.3 MB/s
CDM 6 Write 4K Q8T8: 1469 MB/s
CDM 6 Read 4K Q8T8: 1434 MB/s
ATTO
ATTO tests read and write speeds at a wider range of block sizes to paint a bigger picture of overall performance. It is here where we can see cutbacks; read and write rates of very small blocks (512 B, 1 KB, 2 KB) are much slower than expected. The competing Kingston A2000, for example, is able to outperform our WD drive by over 10x in this particular category.
Temperature
Temperatures reach up to 51 C after two successive runs of CDM 6. WD says performance will be throttled should the junction temperature 'exceed the maximum temperature allowable for the product' without actually stating what that temperature ceiling is.
Verdict
The Blue SN550 is at its weakest when reading and writing very small block sizes of 4 KB or smaller. If your work involves moving gigabytes of these small files, then the SN550 might not be the best choice. Fortunately, most applications like gaming or editing involve much larger files where the WD SSD is at its best.
The SN550 series will begin shipping on January 2020. Note that the base $70 250 GB option will have less than half the write speeds of the top-end 1 TB option.
After graduating with a B.S. in environmental hydrodynamics from the University of California, I studied reactor physics to become licensed by the U.S. NRC to operate nuclear reactors. There's a striking level of appreciation you gain for everyday consumer electronics after working with modern nuclear reactivity systems astonishingly powered by computers from the 80s. When I'm not managing day-to-day activities and US review articles on Notebookcheck, you can catch me following the eSports scene and the latest gaming news.