KFA2 GeForce GTX 1660 Super: A midrange GPU that punches above its weight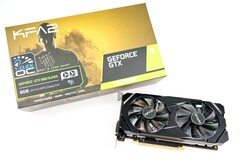 If you have set yourself a limit of around €250 (~US$275) for a new desktop GPU this Christmas, then you will run into the NVIDIA GeForce GTX 1660 SUPER sooner or later. The GTX 1660 SUPER improves upon the regular GTX 1660 in several areas, with the KFA2 version going even further than a reference card could.
KFA2 charges €235 (~US$259) for its version of the GeForce GTX 1660 SUPER, NVIDIA's mid-generation GTX 1660 upgrade. The add-in-board partner (AIB) has priced the card well in our opinion, as our recent review explains. The GTX 1660 SUPER is much more powerful than the regular GTX 1660 because of faster VRAM, and puts it within reach of the GTX 1660 Ti. The higher volume of CUDA cores and TMUs gives the GTX 1660 Ti the edge over NVIDIA's latest mid-range GPU in most tasks, according to our tests. Fine-tuning the GTX 1660 SUPER can help it achieve almost GTX 1660 Ti levels of performance, though.
Ultimately, the KFA2 GeForce GTX 1660 SUPER would be a good choice for those who are considering upgrading to triple-A 1080p PC gaming this Christmas. The graphics card even has enough reserves for some 1440p gaming too and even 2160p in titles like FIFA 20. Check out our review if you want further analysis on how the KFA2 GeForce GTX 1660 SUPER performs in specific games and benchmarks.
| Specifications | GTX 1650 | GTX 1660 | GTX 1660 Super | GTX 1660 Ti | RTX 2060 | RTX 2070 | RTX 2080 | RTX 2080 Ti |
| --- | --- | --- | --- | --- | --- | --- | --- | --- |
| Chip | TU117 | TU116 | TU116 | TU116 | TU106 | TU106 | TU104 | TU102 |
| FinFET process | 12 nm | 12 nm | 12 nm | 12 nm | 12 nm | 12 nm | 12 nm | 12 nm |
| CUDA cores | 896 | 1,408 | 1,408 | 1,536 | 1,920 | 2,304 | 2,944 | 4,352 |
| Texture units | 56 | 88 | 88 | 96 | 120 | 144 | 184 | 272 |
| Tensor cores | - | - | - | - | 240 | 288 | 368 | 544 |
| RT Cores | - | - | - | - | 30 | 36 | 46 | 68 |
| GPU base clock | 1,485 MHz | 1,530 MHz | 1,530 MHz | 1,500 MHz | 1,365 MHz | 1,410 MHz | 1,515 MHz | 1,350 MHz |
| GPU boost clock | 1,665 MHz | 1,785 MHz | 1,785 MHz | 1,770 MHz | 1,680 MHz | 1,620 MHz | 1,710 MHz | 1,545 MHz |
| Memory bus | 128-Bit | 192-Bit | 192-Bit | 192-Bit | 192-Bit | 256-Bit | 256-Bit | 352-Bit |
| Memory bandwidth | 128 GB/s | 192.1 GB/s | 336 GB/s | 288 GB/s | 336 GB/s | 448 GB/s | 448 GB/s | 616 GB/s |
| VRAM | 4 GB GDDR5 | 6 GB GDDR5 | 6 GB GDDR6 | 6 GB GDDR6 | 6 GB GDDR6 | 8 GB GDDR6 | 8 GB GDDR6 | 11 GB GDDR6 |
| TDP | 75 W | 120 W | 125 W | 120 W | 160 W | 175 W | 215 W | 250 W |