Intel Pentium 4405U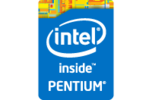 The Intel Pentium 4405U is an ULV (ultra low voltage) dual-core SoC based on the Skylake architecture and has been launched in September 2015. The CPU can be found in ultrabooks as well as normal notebooks. In addition to two CPU cores with Hyper-Threading clocked at 2.1 GHz (no Turbo Boost), the chip also integrates an HD Graphics 510 GPU and a dual-channel DDR4-2133/DDR3L-1600 memory controller. The SoC is manufactured using a 14 nm process with FinFET transistors.
Architecture
Skylake replaces both Haswell and Broadwell and brings the same microarchitecture in every TDP class from 4.5 to 45 W. The extensive improvements of the Skylake design include increased out-of-order buffers, optimized prefetching and branch prediction as well as additional performance gains through Hyper-Threading. Overall, however, performance per clock has been increased by only 5 to 10 percent (compared to Haswell) respectively under 5 percent (compard to Broadwell), which is quite modest for a new architecture ("Tock").
Performance
Thnaks to the added Hyper-Threading support, the 4405U performs significantly better than previous Pentium CPUs and should match the Broadwell-based Core i3-5010U. Thus, the CPU has sufficient power for office and multimedia purposes as well as somewhat more demanding applications.
Graphics
The integrated graphics unit called HD Graphics 510 represents the "GT1" version of the Skylake GPU (Intel Gen. 9). Its 12 Execution Units, also called EUs, are clocked at 300 - 950 MHz and offer a performance somewhat below the older HD Graphics 4400. Only a few games of 2015 can be played smoothly in lowest settings. For more information about performance and features, check our page for the HD Graphics 510.
Power Consumption
Specified at a TDP of 15 W (including CPU, GPU and memory controller), the CPU is best suited for small notebooks and ultrabooks (11-inches and above). Optionally, the TDP can be lowered to 10 watts (cTDP down), reducing both heat dissipation and performance and allowing even more compact designs.
Series
Intel Pentium
Codename
Skylake

Series: Pentium Skylake

Clock Rate
2100 MHz
Level 1 Cache
128 KB
Level 2 Cache
512 KB
Level 3 Cache
2 MB
Number of Cores / Threads
2 / 4
Power Consumption (TDP = Thermal Design Power)
15 Watt
Manufacturing Technology
14 nm
Die Size
99 mm2
Max. Temperature
100 °C
Socket
BGA
Features
Dual-Channel DDR3L-1600/DDR4-2133 Memory Controller, HyperThreading, AVX, AVX2, Quick Sync, Virtualization, AES-NI
GPU
Intel HD Graphics 510 (300 - 950 MHz)
64 Bit
64 Bit support
Architecture
x86
Announcement Date
09/01/2015
Product Link (external)
Intel Pentium 4405U
Benchmarks
- Range of benchmark values for this graphics card

- Average benchmark values for this graphics card
* Smaller numbers mean a higher performance
v1.22
log 29. 09:25:48
#0 no ids found in url (should be separated by "_") +0s ... 0s
#1 not redirecting to Ajax server +0s ... 0s
#2 did not recreate cache, as it is less than 5 days old! Created at Wed, 25 Jan 2023 08:57:11 +0100 +0.001s ... 0.001s
#3 composed specs +0.012s ... 0.013s
#4 did output specs +0s ... 0.013s
#5 getting avg benchmarks for device 7041 +0.002s ... 0.015s
#6 got single benchmarks 7041 +0.01s ... 0.025s
#7 got avg benchmarks for devices +0s ... 0.025s
#8 min, max, avg, median took s +0s ... 0.025s
#9 return log +0.023s ... 0.048s
Reviews for the Intel Pentium 4405U processor
Medion Akoya E7419-MD60511: Intel HD Graphics 510, 17.30", 2.8 kg
External Review » Medion Akoya E7419-MD60511
Acer TravelMate P2 TMP278-M-P5JU: Intel HD Graphics 510, 17.00", 3 kg
External Review » Acer TravelMate P2 TMP278-M-P5JU
Lenovo E31-80-80MX00WHRK: Intel HD Graphics 510, 13.30", 1.6 kg
External Review » Lenovo E31-80-80MX00WHRK
Medion Akoya E6421-30020549: Intel HD Graphics 510, 15.60", 2.3 kg
External Review » Medion Akoya E6421-30020549
Acer TravelMate P258-M-P209: Intel HD Graphics 510, 15.60", 2.4 kg
External Review » Acer TravelMate P258-M-P209
Medion Akoya E7419-MD60025: Intel HD Graphics 510, 17.30", 2.8 kg
External Review » Medion Akoya E7419-MD60025
Dell Latitude 13 3000-N001L337913US: Intel HD Graphics 510, 13.30", 1.8 kg
External Review » Dell Latitude 13 3000-N001L337913US
Lenovo Yoga 500-15ISK-80R60057GE: Intel HD Graphics 510, 15.60", 2.1 kg
External Review » Lenovo Yoga 500-15ISK-80R60057GE