Intel Pentium 3561Y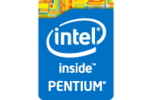 The Intel Pentium 3561Y is an entry-level, ULV (ultra low voltage) dual-core processor for subnotebooks and tablets launched in Q1 2014. It is based on the Haswell architecture and is manufactured in 22nm. Compared to the Core i3, Core i5 and Core i7 CPUs, many features like Turbo Boost, Hyper-Threading and AVX are disabled. In contrast to the very similar Pentium 3560Y, the 3561Y supports Wireless Display (WiDi) and Quick Sync.
Haswell is the successor to the Ivy Bridge architecture with improvements on both GPU and CPU performance. The CPUs are produced in 22nm and offer an optimized branch prediction as well as additional execution ports, improving performance per clock by almost 10 percent.
The performance of the Pentium 3561Y should be 10 - 15 percent higher compared to the Ivy Bridge-based Pentium 2129Y. The CPU has sufficient power for most office and multimedia purposes, but will struggle in more demanding applications.
The Pentium 3561Y is rated at a TDP of 11.5 W (SDP 6 W) including the graphics card, memory controller, VRMs and the integrated chipset. Therefore, the CPU is suited for small subnotebooks or tablets.
Series
Intel Pentium
Codename
Haswell

Series: Pentium Haswell

Clock Rate
1200 MHz
Level 1 Cache
128 KB
Level 2 Cache
512 KB
Level 3 Cache
2 MB
Number of Cores / Threads
2 / 2
Power Consumption (TDP = Thermal Design Power)
11.5 Watt
Manufacturing Technology
22 nm
Max. Temperature
100 °C
Socket
BGA
Features
HD Graphics (200 - 850 MHz), SSE 4.1/4.2, DDR3(L)-1600 Memory Controller, Virtualization, AES-NI, Wireless Display, Quick Sync
GPU
Intel HD Graphics (Haswell) (200 - 850 MHz)
64 Bit
64 Bit support
Architecture
x86
Announcement Date
01/01/2014
Product Link (external)
Intel Pentium 3561Y
Benchmarks
- Range of benchmark values for this graphics card

- Average benchmark values for this graphics card
* Smaller numbers mean a higher performance
v1.25
log 28. 22:27:57
#0 no ids found in url (should be separated by "_") +0s ... 0s
#1 not redirecting to Ajax server +0s ... 0s
#2 did not recreate cache, as it is less than 5 days old! Created at Fri, 25 Aug 2023 17:29:24 +0200 +0.001s ... 0.001s
#3 composed specs +0.018s ... 0.019s
#4 did output specs +0s ... 0.019s
#5 getting avg benchmarks for device 4746 +0.002s ... 0.022s
#6 got single benchmarks 4746 +0s ... 0.022s
#7 got avg benchmarks for devices +0s ... 0.022s
#8 min, max, avg, median took s +0s ... 0.022s
#9 return log +0.022s ... 0.044s
No reviews found for this CPU (yet).