We've recently seen Intel confirming that an 8-core Tiger Lake-H in indeed in the works. Now, we are getting information that the Tiger Lake-H processors will be paired with the new Intel DG2 Xe graphics. DG2 is expected to be available in 128, 384, 512, and possibly 960 execution unit (EU) configurations.
This information comes from @unikoshardware on Twitter (via Videocardz) who posted a snippet from what appears to be an internal Intel document or web page. The image shows that Intel DG2 with 8 GB GDDR6 VRAM will feature in the 45 W Tiger Lake-H as well as in Alder Lake-P. Presence of 8 GB GDDR6 is an indication that DG2 will use a 256-bit memory interface and this GPU could very well be a 512 EU part.
Intel officially introduced Alder Lake during the Willow Cove architecture brief last month but didn't give any details. From what we know so far, Alder Lake will use a new hybrid core architecture with a cluster of small and big cores. The initial launch is expected to feature a 2+8 (small+big) design with a 6+8 expected some time later. The Alder Lake family will likely launch some time at the end of 2021 and will be comprised of Alder Lake-H and Alder Lake-U offerings as well.
More Intel DG2 Xe-HPG details
Videocardz managed to gather more information about the upcoming DG2 Xe-HPG GPU. Much of the information comes from an anonymous source, so take it with a pinch of salt. That being said, the possibilities don't seem too improbable either.
According to the source, Intel DG2 Xe-HPG is being planned in 128, 384, and 512 EU configurations. A 960 EU part is also rumored to be in evaluation. A 960 EU part means 7,680 FP32 cores (ALUs) and if Intel does mass produce this, it could turn out to be a serious challenger for NVIDIA's Ampere and AMD's RDNA2 lineup. Apparently, Xe-HPG will continue to use GDDR6 VRAM with the 384 EU part rumored to sport a 192-bit memory bus (6 GB GDDR6).
Apart from coming as discrete PCIe cards, DG2 is also likely to feature alongside Tiger Lake-H in notebooks. A PCB diagram of what appears to be an MXM-type board featuring the DG2 384 EU variant shows six GDDR6 modules and a 189 mm2 die size. @Komachi_Ensaka found clues that indicate DG2 will use USB Type-C for display out. This is on expected lines as Tiger Lake laptops come with support for Thunderbolt 4.
Xe-HPG is expected to launch some time in Q2 2021. It will be made by an external foundry, but the process node is not yet known.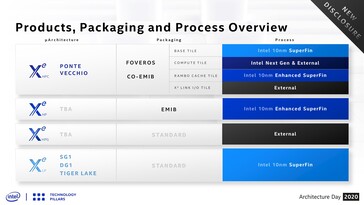 Though a cell and molecular biologist by training, I have been drawn towards computers from a very young age ever since I got my first PC in 1998. My passion for technology grew quite exponentially with the times, and it has been an incredible experience from being a much solicited source for tech advice and troubleshooting among family and friends to joining Notebookcheck in 2017 as a professional tech journalist. Now, I am a Lead Editor at Notebookcheck covering news and reviews encompassing a wide gamut of the technology landscape for Indian and global audiences. When I am not hunting for the next big story or taking complex measurements for reviews, you can find me unwinding to a nice read, listening to some soulful music, or trying out a new game.