We have earlier reported that Intel would be offering Tiger Lake in both 35 W and 45 W variants. The 35 W is designed to cater to thinner gaming laptops whereas the upcoming 45 W chips are meant to offer desktop-class performance. Today, at CES 2021, Intel has finally taken the wraps off the 11th generation 35 W Core-H series Tiger Lake chips and is also introducing a new market segmentation for gaming laptops.
New gaming laptop segments
With the introduction of 35 W chips for gaming, Intel is creating new market segments. So, gaming laptops will now fall under Essential (US$699-US$999), Ultraportable (US$999-US$1,999), Thin Enthusiast, and Halo Enthusiast categories (above US$1,9999) all with discrete graphics. Today's launch is focused around the Ultraportable segment, which Tiger Lake-H35 aims to cater to.
Whether OEMs would follow this classification or not is not clear at this moment, but Intel's offerings in the days to come will very well use this demarcation to indicate budgets and the kind of performance that can be expected from each product line.
11th Core H-series platform features — Resizable BAR included
Intel said that ultraportable gaming laptops should not only be thin but also be enthusiast gaming capable. Marketing speak aside, what this means is that laptops powered by Tiger Lake-H35 chips will feature technologies such as PCIe Gen4 connectivity to the GPU, Killer Wi-Fi 6E Gig+ (including the Killer Prioritization Engine), Thunderbolt 4, Optane H20 support, and more.
That being said, certain features such as overclocking and XTU support are absent in H35 and will be reserved for the more powerful 45 W chips due later this quarter. Oh, and Intel also confirmed that resizable BAR will be coming to the platform in partnership with NVIDIA.

Intel Core H-series 35 W SKUs led by the Core i7-11375H Special Edition
According to Intel, the Core-H series 35 W is meant to offer the perfect combination of mobility and gaming prowess. Though we'd like to test these claims ourselves soon, for now, Tiger Lake-H35 is said to be able to boost up to 5 GHz on single-core with Turbo Boost 3.0. The SKU that achieves this is the flagship Core i7-11375H Special Edition.
The other two SKUs are the Core i7-11370H and the Core i5-11300H. All SKUs in Tiger Lake-H35 are 4C/8T parts and can be configured with cTDP up 35 W and cTDP down 28 W.
Intel says that the Core i7-11375H's single-core performance is only matched by their 10th gen 45 W counterparts. In a SPECRATE 2017_int_base comparison, Intel showed the Core i7-11375H as having nearly 30% higher performance than both the 35 W AMD Ryzen 7 4800HS and the Ryzen 9 4900H, both of which are 8C/16T parts.
Coming to gaming performance, Intel said that Tiger Lake-H35 is aimed at 1080p 70 fps and "smooth" 4K gaming. The exact numbers will be made available once NVIDIA's lifts the performance embargo for the upcoming Ampere mobile GPUs.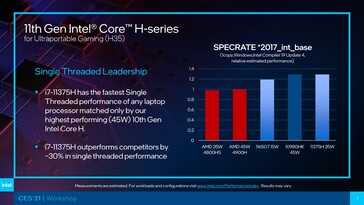 Availability
All major OEMs will offer Tiger Lake-H35 models this year in the ultraportable gaming laptop segment. Intel said that about 40+ designs can be expected from OEMs such as Acer, Asus, MSI, Vaio, Dell, HP, Lenovo, and more. Many of these laptops will make their debut during CES 2021.
Though a cell and molecular biologist by training, I have been drawn towards computers from a very young age ever since I got my first PC in 1998. My passion for technology grew quite exponentially with the times, and it has been an incredible experience from being a much solicited source for tech advice and troubleshooting among family and friends to joining Notebookcheck in 2017 as a professional tech journalist. Now, I am a Lead Editor at Notebookcheck covering news and reviews encompassing a wide gamut of the technology landscape for Indian and global audiences. When I am not hunting for the next big story or taking complex measurements for reviews, you can find me unwinding to a nice read, listening to some soulful music, or trying out a new game.