Huawei MediaPad M3 Series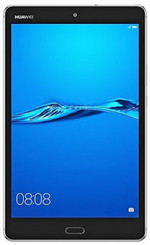 Processor:
Kirin 950, Qualcomm Snapdragon 435
Graphics Adapter:
ARM Mali-T880 MP4, Qualcomm Adreno 505
Display:
8.00 inch, 8.40 inch, 10.10 inch
Weight:
0.31kg, 0.46kg
Price:
200, 349 euro
price: 76%, performance: 72%, features: 70%, display: 82%, mobility: 82%, workmanship: 84%, ergonomy: 81%, emissions: 96%
Huawei MediaPad M3 8.4 inch
Hands-on article by Jagadisa Rajarathnam
The Huawei MediaPad M3 8.4 inch is an Android-based tablet that looks sleek, slim and stylish. It was announced in September 2016 and just released in October 2016. The tablet is crafted from aerospace grade aluminum and its sturdy yet light uni-body case is sculpted using a 5-axis CNC machine. In a glance, it may look like a very large smartphone because it is quite thin and narrow compared to many other tablets. It comes pre-installed with Android OS v6.0 Marshmallow with Emotion UI 4.1 skin and has an octa-core processor, a Mali-T880 MP4 graphics processing unit, 4 GB RAM and an internal storage of either 32 GB or 64 GB. The storage capacity can be expanded by up to 256 GB via the microSD slot. The tablet sports a capacitive 8.4-inch IPS LCD touchscreen with 1600 x 2560 pixels resolution. There are very few tablets with the size and resolution of the Huawei MediaPad M3 8.4 inch in the market and the screen is mainly good for reading and watching movies. Colors are vivid and black is deep. In addition, it has decent viewing angles and brightness levels. However, the screen has 16:9 ratio which makes everything look narrow and hampers the experience when browsing the internet. Moreover, it is not outdoor-friendly because the screen suffers from excessive reflections. Huawei partnered with the audio brand Harman Kardon to include speakers with decent sound quality. The dual speakers create the feeling of a surround-sound, but some have reported that they may lack some bass and some distortions can be present when playing songs. Its primary 8-MP camera on the rear features geo-tagging, autofocus, touch focus, face detection, HDR and panorama. However, the rear camera has slow shutter speed, lacks vibrancy and details. Photos do not look particularly good even if they are taken under good lighting conditions. Considering the fact that tablets aren't really used for their cameras, this might not be a major issue for many potential buyers. In addition, there is a secondary 8 MP camera on the front. Both cameras are able to record videos in 1080p resolution at 30 fps. Furthermore, the Huawei MediaPad M3 8.4 inch comes with features such as fingerprint reader, accelerometer, gyroscope, proximity sensor, compass, ambient light sensor and Hall Effect sensor. The tablet is available in 2 different colors: gold and silver. The Huawei MediaPad M3 8.4 inch has a convenient weight of 310 g and has a non-removable Lithium-Polymer 5100 mAh battery. Overall, the tablet is decent with a hi-res display, impressive audio and a very sleek design. It'll suite users who for some reason require a smaller tablet but something bigger than a typical smartphone.
Press Review by Capuchino Saber
These days, many customers look for a tablet for entertainment with powerful features and outstanding design, yet reasonable price. Last year (2016), Huawei has released the MediaPad M3 8.3 inch. Huawei announced that they were putting more efforts to satisfy customer requirements. The Huawei MediaPad M3's slim and light aluminum case features an aesthetic design. Furthermore, this tablet comes with excellent speakers, which could attract most users at the first time using, and a good processor of HiSilicon (the Kirin 950).
Design
Featuring an 8.4 inch display, Huawei decided to stick the MediaPad M3 with a 16:9 aspect ratio. PhoneArena comments, "While this does make the MediaPad M3 a bit taller than some of its competitors, it also makes it considerably narrower". On the contrary, "The Huawei MediaPad M3 is a small tablet. It's slim, it's light and it's handy - and the 4G version can even double as a gigantic phone, as long as you don't mind all your calls coming out at speakerphone volume", said TechRadar. Regarding page ComputerShopper, with its white front, diamond-cut edges and solid silver-metal back, not to mention the iOS-like-rounded-corner icons used in the company's Emotion UI (EMUI) Android skin, it's clear that Huawei is attempting to ape the style of Apple's iPad. With only 310 g, the Huawei MediaPad M3, as a remark of page TechNave, is quite light despite the metal body encased in. Built quality is excellent with bezels so compact that the 8.4 inch display doesn't seem much larger than most other 8-inch tablets. It fits comfortably in one hand and looks more like a premium flagship smartphone than a tablet. Page LaptopMag also gave their comparison between this tablet and other competitive models on the weight and thickness: the Huawei MediaPad M3 (with its weight and 0.3 inch thick) is slightly heavier than the Asus ZenPad Z8 and Apple iPad Mini 4, but slightly lighter than the LG G Pad F 8.0 and the Acer Predator 8. This tablet generally is crafted out of aluminum and glass, making for a product that feels premium and high-end. This creates for a look that's somewhat reminiscent to that of the Nexus 6P, and it's one that the PhoneArena's reviewer hopes Huawei sticks to for some time.
Display and Fingerprint Sensor
Displayed in the 8.4 inch screen with the aspect ratio of 16:9, the Huawei MediaPad M3 is actually supreme for recreational purposes, such as: watching videos or playing games. Compared to the previous version, the 8-inch Huawei MediaPad M2, the MediaPad M3 has a true high-resolution screen. As commented from TechRadar, "It's an 8-inch 2500 x 1600 pixel screen, with an IPS LCD panel. The upshot is that pixel density and sharpness are both excellent and even up close the screen looks sharp". The reviewer of LaptopMag also gave his thought about the display while watching the Rogue One: "A Star War Story trailer on the slate, I noted the rich, inky blacks of outer space, the crisp whites of Star Destroyer and the bright oranges of Rebel pilot jumpsuits". However, according to TechRadar, "Its contrast is not as good as that of the OLED Samsung Galaxy Tab S2's display, but this is a good screen". Also, an evaluation on page PhoneArena is that the colors are nice and vibrant, text is crisp, and whites are extremely stark. The only real complaint of the reviewer from this page would be that the screen doesn't get quite as bright as he would have expected, but seeing how this is something user is going to be using indoors the majority of the time, it shouldn't prove to be that big of an issue. "The fingerprint scanner is not a clicky button, though, just a touch-sensitive pad. Used while the MediaPad M3 is awake, it's a back button; when the device is asleep, of course, it wakes the little guy up", said the TechRadar. In contrast, TechNave supposed that the very quick and responsive fingerprint sensor acts as the home, back and recent app buttons. The writer of page PhoneArena remarked this feature that "Setting up the scanner upon the first use was a very speedy process, and I never experienced any issues while using the scanner to unlock the tablet while testing it out. It's very fast and accurate, and it really is a great addition to have".
Software and Audio
One of its biggest weaknesses is its interface. As PhoneArena reviewed, the Huawei MediaPad M3 is running Android 6.0 Marshmallow with EMUI 4.1 layered over it, and that creates for a software situation that's a bit less than ideal. In the same opinion, "Some people end up really disliking Emotion UI in a phone, but we find it a bit less contentious in a tablet. We tend to flick between apps a bit less rapidly than when using a phone", TechRadar complained. Moreover, "As impressed as we are with the MediaPad M3's hardware, we're not quite as jazzed about the software, we would not hold out much hope for a major software update to the MediaPad M3" (ComputerShopper). About the audio, the cooperation with the hi-fi audio company Harmon Kardon played an important role in improving the MediaPad M3's sound significantly. Specifically, "It's top and bottom speakers filled a large conference room with a great reproduction sound. The included H300 earbuds by AKG sweeten the deal, providing equally clear and strong sound", quoted from LaptopMag. Also with the positive remark from PhoneArena, the MediaPad M3 features stereo audio thanks to dual speakers that are positioned on both the top and bottom of the tablet. The reviewer of this page could safely say that this was a very solid audio setup after some extensive listening sessions with the M3.
Performance
The HiSilicon Kirin 950 processor clocked at 2.3 GHz with Mali-T880MP4 GPU and 4 GB of RAM help to ensure that you can handle multi-task with ease. As a whole, performance on the MediaPad M3 is very good. Basically, regarding PhoneArena, "The M3 is exceptional when it comes to lightweight to average use". However, when it came time to really put the M3 through its paces, the reviewer of this page was left feeling a bit confused. Besides, as an evaluation on page TechNave, the graphics benchmarks gave away the MediaPad M3's fatal flaw with rather low scores in 3DMark signifying that the tablet could not offer smooth performance on higher resolutions, which was mainly due to 2K resolution that graphics had to handle. Also, "The MediaPad didn't do well on the 3DMark benchmark test, taking a score of 15.375, which is lower than iPad Mini 4, the Predator 8 (20.785), ZenPad Z8 (17.846). This test proved a solid detector of its real-life performance, as I saw clipping and slight stutters when I played a round of the racing title Asphalt 8" (LaptopMag's remark). PhoneArena supposed that this tablet had taken quite a bit longer for Mortal Combat X and Modern Combat 5 to actually open up on the MediaPad M3, and numerous in-game animations had appeared noticeably slower and more jittery than he was expecting. This page concluded: "This is still a fast tablet for most use cases, but there are certain situations here and there were the MediaPad M3 feels quite a bit slower than it should".
Camera
According to page TechRadar, the Huawei MediaPad M3's rear camera is rather pedestrian. It's an 8 MP sensor with an f/2 lens: fine for a tablet but probably not as good as your phone camera, unless you have a fairly old mobile. "I was able to capture some photos that turned out looking fairly nice, but there were others I took that ended up looking like an oil-painting", said PhoneArena. Nevertheless, following a comment on page TechNave, camera features are above average at best so while all the basic features like panorama, depth of field and the like are available it won't beat out most camera phones. The 8 MP front and back cameras are above what you'd normally see in a tablet through and should be more than enough for Skype or a selfie or 2.
Battery Life
The TechRadar's battery test, which involves playing a 90-minute video at maximum brightness with accounts syncing over Wi-Fi in the background, drained 19% from its battery. This suggests you should be able to enjoy between seven and a half and eight hours of video off a full charge. It also suggested around five and a half hours of gaming off a full battery. And if there's one area of performance where the MediaPad M3 could use some improvement, it's battery life. "Running our 720p test video with screen set to 50 percent brightness, the Huawei tablet lasted a little over nine hours" (ComputerShopper). Lastly, as commented from LaptopMag, when they tested the MediaPad M3 with the LaptopMag's battery test (web surfing at 150 nits of brightness) on AT&T 4G LTE network, the tablet lasted 8 hours and 40 minutes.
Verdict
In conclusion, the Huawei MediaPad M3 is really a tablet with a lot of adequate qualities like fast overall speed, the crisp and bright screen, and especially the awesome speakers. However, it seems that there are several defects existing in this tablet, for example, the low performance on games. In addition, from my perspective, the high price and perhaps the awkward navigation key are also considered minus points of this device. Yet anyway, "You'll need to think carefully about whether this is going to be an issue for you before choosing the Huawei MediaPad M3 over an iPad Mini, Samsung Galaxy Tab S2 or cheaper Asus ZenPad Z580C" (TechRadar's verdict).
Specifications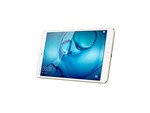 Notebook:
Huawei MediaPad M3 8.4 inch
Processor:
Kirin 950
Graphics Adapter:
ARM Mali-T880 MP4
Display:
8.40 inch, 16:10, 2560 x 1600 pixels
Weight:
0.31kg
Price:
349 euro
Links:
Huawei homepage
MediaPad M3 8.4 inch (Model)
Pricecompare
Average Score:
Average of 76 scores (from 132 reviews)
Foreign Reviews
Huawei MediaPad M3 Lite
The Huawei MediaPad M3 Lite is a tablet equipped with a total of four speakers in order to produce a vivid and powerful soundscape. As far as Huawei tablets go, the MediaPad M3 series is top of the line. Technically, that is, since the Huawei MediaPad M3 Lite 10.0 is more like a stripped-down mid-range tablet. It is available in two different versions, Wi-Fi only and LTE. With its standard looks, the MediaPad M3 Lite is far from causing a design revolution. This is also true in terms of color, as the tablet comes either in a mix of black and grey (front and back) or entirely in white. Both models are encircled by a silver metal frame. With 32GB of storage and 3GB of RAM, the MediaPad M3 Lite 10.0 is well equipped for today's needs. The storage can be upgraded via a microSD card, which is inserted together with the SIM card on a combined SIM/SD-card tray. The processor of the tablet is Qualcomm's lower mid-range 1.4 GHz octa-core Snapdragon 435 SoC. Performance is certainly adequate for everyday use. The MediaPad M3 Lite's 16:10 1920x1200 display is slightly higher and not as wide as a 16:9 display, which makes it better suited for office work or browsing the web and less suitable for watching movies. At only 413 nits, the average brightness is somewhere between mid and low-range. The MediaPad M3 Lite's rear-facing main and front-facing secondary camera with autofocus, both with 8MP, are impressive.
Huawei has installed its so-called "Emotion UI", version 5.1, on top of Android 7.0. Most modifications are in the design, and, in general, they are rather subtle when compared to pure vanilla Android 7.0. A few updated logos here and there or the ability to select from various available themes, but also improved SmartCover detection, a quick access menu on the left side, and the ability to power the device on or off on a schedule. When multitasking, apps can be placed side by side, which makes sense on a display as large as this. By and large, users familiar with Android will feel right at home. The tablet's low power consumption is another big plus. In standby, it barely needs any power, and it needs less power than most of its competitors when idle. With only 6.33W under maximum load, it was the most power efficient of the bunch in this load scenario. To further improve power consumption, an energy-saver mode can be enabled on demand, and the display resolution can be lowered as well. The MediaPad M3 Lite 10 is equipped with an 802.11 a/b/g/n/ac Wi-Fi chip. It is also equipped with a Cat.4 LTE modem with a maximum speed of up to 150 Mbit/s receiving and 50 Mbit/s transmitting data.
Hands-on article by Jagadisa Rajarathnam
Specifications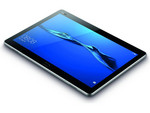 Notebook:
Huawei MediaPad M3 Lite
Processor:
Qualcomm Snapdragon 435
Graphics Adapter:
Qualcomm Adreno 505
Display:
10.10 inch, 16:10, 1920 x 1200 pixels
Weight:
0.46kg
Price:
349 euro
Links:
Huawei homepage
Pricecompare
Average Score:
Average of 40 scores (from 62 reviews)
Foreign Reviews
Huawei Mediapad M3 Lite 8
Specifications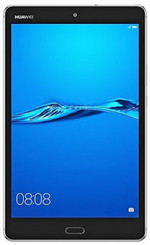 Notebook:
Huawei Mediapad M3 Lite 8
Processor:
Qualcomm Snapdragon 435
Graphics Adapter:
Qualcomm Adreno 505
Display:
8.00 inch, 16:10, 1920 x 1200 pixels
Weight:
0.31kg
Price:
200 euro
Links:
Huawei homepage
Pricecompare
Average Score:
Average of 8 scores (from 14 reviews)
Foreign Reviews
Comment
Huawei: Huawei Technologies Co., Ltd. is a Chinese company founded in 1987 with focus on telecommunications hardware and 170000 employees. In the first quarter of 2016, Huawei had a market share of 8.2% in the smartphone market, making it the third-largest smartphone manufacturer in the world. Compared to the same quarter of 2015, Huawei increased its market share by more than 58%.
In 2014, Huawei created the sub brand Honor and offers certain smartphone series under this name. The name Huawei is usually not listed for these products.
There are a lot of reviews on Huawei phones with slightly above average ratings (as of 2016).
---
Non demanding games should be playable with these graphics cards.
ARM Mali-T880 MP4: Mobile graphics solution for tablets and smartphones, which can be found in ARM SoCs like the HiSilicon Kirin 950.
Only some 3D games with very low demands are playable with these cards.
Qualcomm Adreno 505: Mid range graphics card integrated in the Snapdragon 430 and 435 SoCs. Based on the 500 generation and supports modern standards like Vulkan 1.0, OpenGL ES 3.1 + AE, OpenCL 2.0 and DirectX 12.
» Further information can be found in our Comparison of Mobile Graphics Cards and the corresponding Benchmark List.
---
:
Kirin 950: ARM based octa-core SoC containing four Cortex-A72 cores for performance tasks and four Cortex-A53 cores to save power. Furthermore, the SoC integrates an LTE radio and a ARM Mali-T880 MP4 GPU.
Qualcomm Snapdragon:
435: Lower mainstream octa-core ARM Cortex-A53 SoC clocked at up to 1.4 GHz and the Adreno 505 GPU, a DDR3L-1600 memory controller as well as an X9 LTE (Cat. 7) modem.
» Further information can be found in our Comparison of Mobile Processsors.
---
» To find out how fine a display is, see our DPI List.
---
0.31 kg:
This weight is somewhat high for a smartphone. Smartphones with a big screen and small tablets weigh as much, usually.
0.46 kg:
This is pretty heavy for a smartphone. Usually, small tablets weigh as much.
---
81.1%: This rating should be considered to be average. This is because the proportion of notebooks which have a higher rating is approximately equal to the proportion which have a lower rating.
» Further information can be found in our Notebook Purchase Guide.