Hisense rolls out its 2019 UHD 4K Android TV line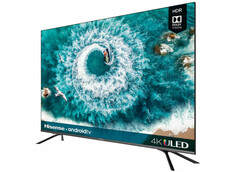 Hisense's all-new Android TV line up for 2019 has started to reach stores in the US, and as usual, the range is attractively priced for the features on offer. There are two new model ranges, the H8F series and the H9F series, that come in varying sizes and price points.
Chinese TV maker Hisense is rolling out its all-new for 2019 range of Android TV 4K ULED TV sets to stores. The H8F is the more affordable of the two new product lines while the H9F offers additional features to go with the additional expense. The H8F line is offered in 50-inch, 55-inch and 65-inch sizes priced at US$400, US$500 and US$700 respectively. The H9F line comes in 55-inch and 65-inch sizes and are priced at US$700 and US$1,100.
Both models come with Android TV smarts with both Google Assistant and Amazon Alexa voice-recognition technology baked in along with dbx-tv audio. The H8F line support 90 percent of the DCI-P3 color space and supports both HDR10 and Dolby Vision formats. It also incorporates 60 local dimming zones to help improve image contrast and compensate for the underlying LCD technology.
As you would expect, the H9F models ramp up the features and utilize the more advanced Quantum Dot technology favored by Samsung in its high-end QLED TVs. These also support HDR10 and Dolby Vision but come with panels that natively support 120Hz refresh rates. Further, it offers 100 percent coverage of the DCI-P3 color gamut and more than double the local dimming zones at 132 for even better contrast and image pop.
Best Buy and Amazon are currently stocking the Hisense H8F series TVs but you will have to wait until next month for the H9F models to land in the US.