CES 2019 | Snapdragon 675-powered HiSense U30 phablet shows up with 48 MP camera, cutout display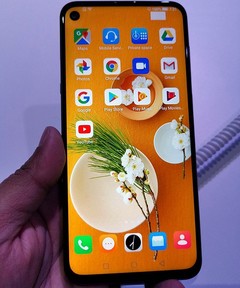 Powered by the new Qualcomm Snapdragon 675 processor, the HiSense U30 is a handset with a 6.3-inch O-Infinity display that features a 20 MP selfie shooter and a 48 + 5 MP main camera setup. Now on display at CES, it is scheduled to go on sale in March in China, Russia, and some European markets.
One of the rather interesting handsets that came out of the blue at CES is the HiSense U30, a 6.3-inch handset that features a 48 MP camera, an O-Infinity display, and the new Qualcomm Snapdragon 675 processor. Although this is not a concept or a prototype, it will only hit the market in March.
In addition to the aforementioned processor, we should also mention the following: 6 and 8 GB memory variants, a 5 MP depth-sensing camera that sits on the back, next to the 48 MP sensor, a 20 MP selfie shooter, 128 GB of non-expandable storage, a cowhide texture back cover, Android 9.0 Pie with Vision UI 6 on top, a 4,500 mAh battery with Qualcomm Quick Charge 4 support, as well as a rear fingerprint scanner and face unlock capabilities.
Those who are worried about animal rights should settle down because this is not a luxury device, so no cows are being hurt to manufacture the stylish case of the HiSense U30. Obviously, we are talking about a faux leather back here, not one that uses natural cowhide.
Leaving aside the lack of expandable storage and the minor display quality issues noticed by Mishaal Rahman from XDA Developers, the HiSense U30 could become an interesting choice for those looking for a capable mid-range device. Sadly, it seems that only Russia, China, and some European countries will get this handset at launch, in March 2019.