HP has no plans for an EliteBook x360 1020 G2 successor for now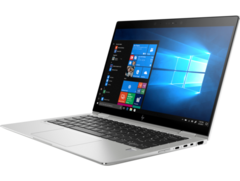 HP's best 12.5-inch convertible will be taking a hiatus in order to focus on the 13.3-inch EliteBook x360 1030 series. All of its features will be integrated into the EliteBook x360 1030 including Sure View and its super-bright backlight for outdoor viewing. HP says its 13.3-inch offering is small enough to fully replace the 12.5-inch model for the time being.
The lightweight HP EliteBook x360 1020 G2 launched late last year and it instantly became our favorite sub 13-inch business convertible. It's equipped with one the brightest displays for its size class and its narrow bezels make it perfect for constant travelers. The XPS 13 2-in-1 and Yoga 920 may each have larger screens, but they don't come close to the portability and versatility of the HP. Unfortunately, we may have to wait a bit longer before a proper successor becomes available.
During a conference call with HP Business Notebook Product Manager Daron Chalk, it was revealed that the 12.5-inch EliteBook x360 1020 series will be replaced or "integrated" into the 13.3-inch EliteBook x360 1030 series moving forward. The key factor that sparked the move is that the latter offers a larger display at very nearly the same dimensions as the EliteBook x360 1020. In other words, the two models are so close in size and target audience that HP would rather focus its resources on one model.
While we can understand that HP wouldn't want to cannibalize sales of its two models, it's a sad day for x360 1020 G2 fans because a potential Kaby Lake-R configuration is not likely to happen anytime soon. Current SKUs are limited to dual-core Intel 7th gen options which are not nearly as fast as the quad-core Kaby Lake-R series. Fortunately, the EliteBook x360 1030 that replaces the x360 1020 incorporates pretty much all of its features and then some. Expect our full review on the high-end configuration of the EliteBook x360 1030 G3 in the coming weeks. In the meantime, see our review on the entry-level EliteBook x360 1030 G3 configuration for more information.