HP EliteBook 735/745/755 G5 and ProBook 645 G4 launching this month with AMD Ryzen PRO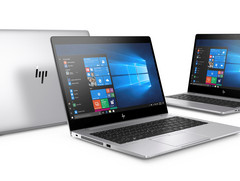 Unlike the EliteBook xx0 or ProBook xx0 series, the alternative xx5 series is equipped with AMD options that are typically less expensive than the standard Intel offerings. All of the new models will carry the same Ryzen 3 PRO 2300U to Ryzen 7 PRO 2700U APUs and integrated Vega graphics. The updated systems will succeed the poorly-received Bristol Ridge APUs as found on the EliteBooks and ProBooks of yesteryear.
Like clockwork, HP will be refreshing its lineup of business notebooks just in time for the back-to-school season. Both the mainstream ProBook series and flagship EliteBook series will be entering their respective 4th and 5th generations alongside AMD Ryzen options ranging from the Ryzen 3 2300U to the Ryzen 7 2700U for all SKUs.
The first model is the 13.3-inch EliteBook 735 G5 with optional touchscreen, HD IR webcam, Intel XMM 7360 LTE, and up to 512 GB of storage and 32 GB of DDR4 RAM. Gone is the unpopular 768p display option that we generally do not recommend for screen quality and productivity reasons. The system can be charged via the usual proprietary charging port or through the universal Thunderbolt 3 port.
The next model is the 14-inch EliteBook 745 G5 with essentially the same features and hardware as the smaller 735 G5 above but with an optional Sure View privacy screen filter to reduce viewing angles when working in public spaces. The design and port selection are essentially identical between these two sizes.
The next size up is the 15.6-inch EliteBook 755 G5 with the same features, hardware, and connectivity options as the 745 G5. When compared to the last generation 755 G4, the 755 G5 is dropping the legacy VGA port in favor of the more future-proof Thunderbolt 3 port.
HP isn't doing away with the VGA port completely, however. Instead, the manufacturer will be moving it to the thicker mainstream 14-inch ProBook 645 G4. This less expensive model will still carry the same Ryzen, WAN, and RAM options as the EliteBook systems above but with optional HDDs and lower resolution 768p panels should users not want to spend more on the SSD and 1080p touchscreen option. Sure View and Thunderbolt 3 will be absent in favor of a standard USB Type-C port.
The EliteBook and ProBook models will all become available by the end of May starting at $1000 and $760, respectively. HP has always been notable for its wider selection of AMD laptops than competing manufacturers like Dell and Lenovo.