AMD Ryzen 5 2600H and Ryzen 7 2800H spotted on 3DMark, could compete against the Core i7-8750H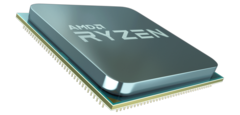 These two unconfirmed quad-core APUs could potentially be part of AMD's high-performance Ryzen series for gaming laptops. If true, laptop gamers may finally have a proper alternative to the ubiquitous i7-6700HQ, i5-7300HQ, i7-7700HQ, and i7-8750H CPUs that power essentially all the latest gaming notebooks in the market today. With Computex right around the corner, we're crossing our fingers for a proper announcement.
AMD has a small presence in desktop PCs and an even smaller presence in laptops. The recent Acer Helios with Ryzen is just one of a very small handful of gaming laptops designed around AMD processors. One reason is because AMD currently offers no high-end mobile Ryzen options designed specifically for gaming laptops, but that could all soon change.
According to unearthed data points from the 3DMark benchmark platform, AMD may be prepping two "Ryzen H" processors for laptops to compete directly against the Intel Coffee Lake-H platform consisting of the quad-core i5-8300H, hexa-core i7-8750H, and others. The source has identified two unverified benchmarks with the name "Ryzen 5 2600H" and "Ryzen 7 2800H" at clock rates of 3.3 GHz and 3.4 GHz, respectively. Both APUs are each quad-core processors capable of 8 threads with integrated Vega GPUs. Unfortunately, the benchmark listing divulges no other information about these unannounced CPUs.
The fact that these processors exist in the 3DMark database suggests that more AMD gaming laptops could be in the works and even nearing release. Current AMD gaming laptops like the Asus GL702ZC rely on desktop Ryzen CPUs that are significantly more inefficient in terms of performance-per-Watt. The existing Ryzen 5 2500U and Ryzen 7 2700U have already proven to be respectable alternatives to the common Core i5-8250U and i7-8550U and we're hoping to see the same from the yet-to-be-confirmed Ryzen 5 2600H and Ryzen 7 2800H.
Source(s)