First A12Z Bionic DTK Geekbench 5 benchmarks show Apple's transition holds immense promise; only a 28% in drop seen in single-core score compared to the MacBook Air 2020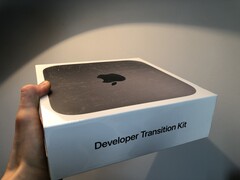 Apple announced the transition to ARM at this year's WWDC and the move has been largely welcomed given its potential for seamless computing across mobile and desktop. Apple also made available a Developer Transition Kit (DTK) to enable developers to get started with creating apps that run on macOS 11 Big Sur powered by Apple Silicon. Now, several Geekbench 5 benchmarks have now leaked despite the use of the DTK being governed by a non-disclosure agreement (NDA).
The Apple DTK is essentially a Mac Mini powered by the A12Z Bionic SoC and running macOS 11 Big Sur Developer Beta. The DTK seems to have achieved a single-core score of 833 and a multi-core score of 2,582. There are about eight total entries for this particular machine in the Geekbench 5 database. It must be noted here that since Geekbench does not have a native Apple Silicon version yet, the available scores are under a Rosetta 2 emulation. So, what do these preliminary numbers indicate?
Let's take native A12Z scores for comparison first. The A12Z Bionic in the iPad Pro 12.9 scores about 1,117 and 4,712 in single and multi-core tests, respectively. The A12Z in the DTK is about 25.4% slower in single-core and 45.2% slower in multi-core. Though the performance difference is large, the numbers are still good considering the fact that we are looking at emulation and early software. The Geekbench 5 result reports the DTK as having only four cores while it is known that the A12Z has, in fact, eight CPU cores. It is very well possible that Rosetta 2 is seeing only the four high performance cores and not the efficiency ones. The clock speed is also listed as 2.4 GHz instead of the A12Z's rated clock of 2.5 GHz.
The numbers make more sense when compared to a 2020 MacBook Air powered by a Core i5-1030NG7. This device scores 1,167 points in single-core and 2,881 points in multi-core in Geekbench 5. Here, we see only about a 10.7% performance deficit in multi-core and about 28.6% in single-core. This implies that Apple's A12Z under emulation is not too far away from a mainstream MacBook Air, which is a good thing.
These scores indicate immense potential for Apple's ARM transition. Remember that we are only looking at an older SoC for now and that too, under emulation. The availability of native ARM64 benchmarking apps, more faster chips such as the upcoming A14 Bionic, and further optimizations to macOS 11 should enable even better scores. Also, the A12Z is designed with an iPad Pro's internals in mind; custom silicon for upcoming MacBooks and iMacs will have much more thermal headroom to flex its muscles.
For now though, this preliminary benchmark is only to be taken as a sign of things to come and they are no doubt encouraging.
Though a cell and molecular biologist by training, I have been drawn towards computers from a very young age ever since I got my first PC in 1998. My passion for technology grew quite exponentially with the times, and it has been an incredible experience from being a much solicited source for tech advice and troubleshooting among family and friends to joining Notebookcheck in 2017 as a professional tech journalist. Now, I am a Lead Editor at Notebookcheck covering news and reviews encompassing a wide gamut of the technology landscape for Indian and global audiences. When I am not hunting for the next big story or taking complex measurements for reviews, you can find me unwinding to a nice read, listening to some soulful music, or trying out a new game.