Facebook releases Tuned, an app that gives couples a "private space" to message each other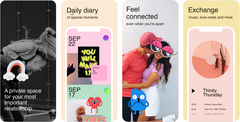 Tuned, an app designed for couples, is now available on iOS. The app comes from the NPE Team within Facebook. Though Tuned is billed as a private app for couples, users should be aware that anything sent through Tuned could be sent to third parties for targeted advertising, per Facebook's data use policies.
Amidst all the social distancing and isolation caused by the COVID-19 pandemic, Facebook is trying out a new way to help couples connect.
Tuned, an app for iOS, was quietly launched today. The app is a messenger program designed to give couples a "private space" where they can be "as mushy, quirky, and silly" online as they are in person.
Tuned uses a scrapbook-like user interface that organizes the message feed in a way that looks like a memory book. A connected couple can share photos, messages, cards, voice memos, and can link a Spotify account to share songs with each other.
The app was developed by the NPE Team, a smaller team under the Facebook umbrella. NPE can be thought of as Facebook's "spaghetti" developer: they throw something at the wall and see if it sticks.
Since the app comes from a Facebook-owned developer, it should be noted that Tuned falls under Facebook's data usage policy. That means that, despite it being advertised as a "private place" for couples, any information or data sent through Tuned can be used for targeted advertising. So maybe you should think twice before sending that message to our sweetheart through Tuned.
Tuned is available for iOS via the Apple App Store.