Facebook's Messenger adds screen-sharing to its beta on Android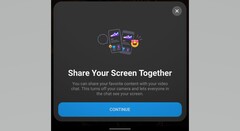 Facebook appears to be preparing a screen-sharing feature for its Messenger app. The latest beta version of this app on Android is reportedly flashing up a new option to "Share your Screen Together" in its video-calling section. To date, there is no mention of the possibility of interaction with a caller's screen.
Facebook's Messenger service exists in a crowded marketplace that also supports popular alternatives such as WhatsApp (which is owned by the same company); Telegram (which is not); Signal and even Google's own SMS app, which with the addition of RCS in some markets may become a much more compelling option in the future. However, the social-media giant would almost certainly prefer users stick with its solution, as evidenced by the feature being tested in its latest Android beta.
It is a form of screen-sharing, by which one caller can disclose the contents of their own displays with one or more others in a video chat. Facebook Messenger for Android already supports the latter, and may add the former to its general-release version of the app soon.
This new beta setting has been detected by Dmytro Tkachuk on Twitter. It is evidenced by a pop-up that offers the choice to "Share your Screen Together" on starting a video call within this app. It reportedly requires screen-recording permissions prior to activation, which is done through the MediaProjection API. To date, there are no indications as to when it may find its way into a stable update.