Facebook persisting with Portal, rolls out three new models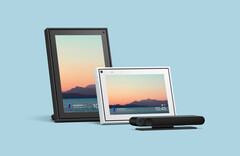 Facebook is still persisting with its Portal hardware-based communications platform. The social media company has unveiled three new models including an 8-inch Portal Mini, a 10-inch Portal and a new Xbox Kinect-like Portal TV device designed to turn your living room TV into an AV communications tool.
Facebook is back with three more additions to its somewhat controversial Portal internet communications hardware platform. Although Facebook has attempted to assuage concerns about the always-listening, always-watching potential of Portal devices given its questionable privacy track record, many remain wary about the devices. Nonetheless, Facebook says the range is selling well enough that they have added three new models to the range.
The new 8-inch Portal Mini and 10-inch Portal have contemporary looking designs with a digital photo frame look that it aimed a seamlessly blending into the home environment. They can be used for 720p video calls, displaying photos and watching videos in either landscape or portrait orientations. Both are designed to take advantage of Facebook's Messenger and WhatsApp communications services in encrypted formats for security purposes. Other app support includes Amazon Prime Video, SHOWTIME and CBS All Access with more coming soon. Support for Amazon Alexa is also baked in.
The new Portal TV is looks very similar to a Microsoft Xbox Kinect and is designed to sit atop or below a TV to bring immersive video calling to the family lounge room. It features Facebook's AI powered Smart Camera which is designed to let a user move around a room naturally. Interestingly, Facebook says that the Smart Camera, which features in all Portal devices along with its Smart Sound AI-powered technology is stored locally and doesn't not get uploaded to its servers. However, the company now openly advises that some randomized and anonymized recordings could be listened to for product improvement purposes.
The Facebook Portal Mini will retail for US$129, the 10-inch Portal will retail for US$179 and ship from October 15. The Portal TV will retail for US$149 and will ship from November 5. The company is offering a US$50 discount when any two Portals are purchased as a bundle.