Desktop and notebook sales fall just 0.5 percent in EMEA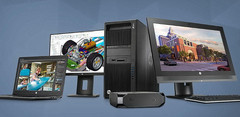 HP, Lenovo, and Dell have each grown in market share at the notable expense of Asus and Acer. HP alone accounts for more than one in four PCs sold in the European, Middle Eastern, and African regions.
The EMEA PC market has been relatively stable this year despite predictions last year of steadily declining sales. According to market research firm IDC, YoY sales of desktops, notebooks, and workstations have been virtually unchanged as of Q3 2017 at an estimated 17.761 million units to represent a decline of 0.5 percent.
The source points to a number of reasons for the overall steady sales. First, manufacturers are benefiting from back-to-school season as students flock to newer systems to start the school year. Second, gaming PCs and notebooks have been particularly strong in Europe to buoy the EMEA market as a whole.
HP, Lenovo, and Dell are once again the three biggest manufacturers with over 60 percent of the PC market in total. Asus and Acer are still far behind in fourth and fifth, respectively, with YoY dips in sales of about 13 percent each. While both Asus and Acer have strong gaming options, HP and Lenovo have been investing more into their respective Omen and Legion gaming families to potentially grab customers away competitors. The two Taiwanese manufacturers will have a tough time this Holiday season when the popular Spectre x360 13, Yoga 920, and XPS 13 with Intel 8th gen Core processors become more widely available.