Dell deals kick off today in honor of Amazon Prime Day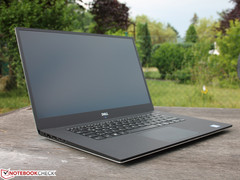 "Doorbuster" style deals will be in effect until the end of this month for select Latitude, Inspiron, Alienware, XPS, and G series laptops. The timings of these sales are confusingly staggered and we recommend checking out our shortened list for the details.
Working For Notebookcheck
Are you a techie who knows how to write? Then join our Team!
Currently wanted:
German-English-Translator - Details here

Ever since the introduction of Amazon Prime Day in 2015, every July has been an online shopping craze from major resellers and retailers including eBay, WalMart, and others. Now, the official Dell store will also be running deals reminiscent to end-of-year Black Friday and Cyber Monday sales.
An incomplete list of deals and when each will go live is shown below. Notable sales include the budget G3 15, mainstream G5 15, and enthusiast Alienware 15 gaming laptops along with a series of inexpensive Inspiron, Vostro, and Latitude offerings. The latest XPS 13 9370 will also be on sale until early next week for $100 off all configuration levels.
Check out our full reviews on some of these laptops for more information before committing to a purchase. Notebookcheck receives no commissions from any purchases made through the Dell online store.
Top Dell Consumer PC deals
Deals available via Dell.com/blackfriday
Dell Inspiron 11

3000

- $129.99

(Save $70)

Doorbuster starts July 10, 11:00 a.m. ET

Dell Inspiron 14 3000 - $179.99

(Save $50)

Available July 2, 6:59 a.m. ET through July 16,

8:00 a.m. ET

Dell Inspiron Small Desktop - $249.99

(Save $160)

Doorbuster starts July 10, 11:00 a.m. ET

Dell Inspiron 15 5000 - $479.99

(Save $200)

Doorbuster

July 12, 11:00 a.m. ET

Dell XPS 13 - $999.99

(Save $100)

Available July 2, 6:59 a.m. ET through July 16,

8:00 a.m. ET

XPS Tower - $999.99

(Save $100)

Available

July 2, 6:59 a.m. ET through July 16, 8:00 a.m. ET
Top Gaming PC deals
Deals available via Dell.com/blackfriday
Dell G3 15 - $679.99

(Save $70)

Available

July 2, 6:59 a.m. ET through July 16, 8:00 a.m. ET

Dell Inspiron Gaming Desktop - $699.99

(Save $150)

Doorbuster starts July 10, 5:00 p.m. ET

Dell G5 15 - $1,049.99

(Save $150)

Doorbuster starts

July 13, 5:00 p.m. ET

Alienware Aurora $1,199.99

(Save $510)

Doorbuster starts July 9, 11:00 a.m. ET

Alienware 15 $1,399.99

(Save $750)

Doorbuster starts

July 12, 11:00 a.m. ET




Top Small Business deals
Deals available via Dell.com/businessdeals
Dell Vostro 15 5000 Laptop - $679

(Save $419.57)

Available

July 2, 8:00 a.m. through July 16, 8:00 a.m. ET

Latitude 3590 - $949 (Save $578.14)

Available

July 5, 8:00 a.m. through July 16, 8:00 a.m. ET

Dell OptiPlex 3050 Small Form Factor - $569

(Save $386.71)

Doorbuster starts July 9, 11:00 a.m. ET

Dell PowerEdge T30 Tower Server - $299

(Save $438)

Doorbuster starts

July 12, 11:00 a.m. ET

Dell 23 Monitor - P2317H - $179.99

(Save $80)

Doorbuster starts July 11, 11:00 a.m. ET

Dell Vostro Desktop - $439

(Save $316.71)

Doorbuster starts

July 18, 11:00 a.m. ET
Top Electronics and Accessories deals
Deals available via http://deals.dell.com/#<wbr />current-televisions
Jaybird Freedom Bluetooth Wireless Earphones - $49.99

(Save $100)

Available July 2,

6:59

a.m. ET

through July 16,

8:00 a.m. ET

Ultimate Ears BOOM 2 Bluetooth Speaker - $59.99

(Save $120)

Doorbuster starts July 10, 11:00 a.m. ET

Dell 22 Monitor - S2218H - $99.99

(Save $100)

Doorbuster starts July 11, 11:00 a.m. ET

Dell 24 Monitor – SE2417HG - $109.99

(Save $100)

Doorbuster starts July 9, 11:00 a.m. ET

Dell 27 Monitor – SE2717H - $169.99

(Save $80)

Available July 2,

6:59

a.m. ET

through July 16,

8:00 a.m. ET
Full schedule of Dell's holiday deals & doorbusters
1

July 2 - 8

-- Dell Financial Services customers, Dell Advantage Loyalty Rewards members, and Dell Member Purchase Program customers have early access to Dell's Black Friday in July doorbusters available each day at

11:00 a.m. ET

July 2 - 16

-- Consumers & Dell Small Business Customers can shop Black Friday in July deals starting at

8:00 a.m. ET

July 5

-- Dell Vostro doorbusters for Dell Small Business Customers available at 11:00 a.m. ET

July 9, 11, 12

-- Black Friday in July doorbusters for consumers and Dell Small Business Customers available each day at

11:00 a.m. ET

July 10 & 13

-- Black Friday in July doorbusters for consumers and Dell Small Business Customers available each day at

11:00 a.m.

,

2:00 p.m. and 5:00 p.m. ET

July 16 - July 20

-- Daily Cyber Week in July doorbusters for consumers and Dell Small Business Customers available at

11:00 a.m. ET

July 16 - July 23

-- Consumers and Dell Small Business customers can shop Cyber Week in July deals starting at

8:00 a.m. ET