Amazon joins the US$ 1 trillion tech company club, breathes down on Apple's neck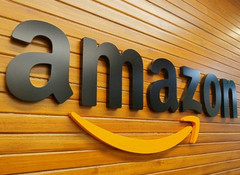 It took Apple 43 years to become the first trillion-dollar US company, whereas Amazon managed the same feat in a little under 25 years, and it now threatens to take over the first position. Granted, Amazon started out as an online bookstore, then it extended into general goods, electronics manufacturing, and more recently cloud-based services or even food-related operations.
Apple became the first US trillion-dollar company back in early August, but the giant is not lonely in that ultra-select club anymore. Amazon just managed to pass the US$ 1 trillion market cap and it looks like it may overtake Apple very soon.

Amazon's stocks got a significant boost through this July's record-setting Prime Day, however, that is not the only thing that helped the company increase its worth. Apart from the well-known e-tailing site, Amazon also owns a few cloud-powered businesses like AWS, Alexa and Prime Video, plus it commercializes a whole range of electronics like the Kindle. More recently, Amazon became the owner of game streaming site Twitch and the Whole Foods operation.

First launched as an online bookstore, Amazon evolved over the course of almost 25 years into a giant company that offers a large assortment of services. Of course, there have been some bumps in the road here and there, as Amazon had to deal with employee strikes regarding low payment, dangerous working conditions, strict monitoring and questionable technology sales, but the company thrived and is set on surpassing Apple.

The next two companies that are eying the membership of the US$ trillion club are Google, which is estimated at US$720 billion, and Microsoft, estimated at more than US$650 billion.