August top 10 fastest Android smartphones ranked by AnTuTu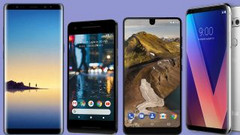 August was a slow month for Android smartphone releases, and the new AnTuTu reflects exactly that. The only new entries are the Meizu 16 Plus and the Samsung Galaxy Note 9, which is the only non-Chinese model featured in the chart. While all August smartphones are powered by the Snapdragon 845 SoC, the next few months should bring a few new entries powered by Huawei's Kirin 980.
AnTuTu just released its August top 10 best performing Android smartphone models chart, which has received only a few modifications since it was last updated in July as the eighth month was quite slow regarding releases.

First new entry is the Meizu 16 Plus that landed straight on the second position. The Xiaomi Black Shark is still pack leader, but Meizu 16 Plus is trailing very close, having itself a custom cooling system that allows for increased SoC frequencies.

Formerly occupying the third place, OnePlus 6 dropped to the seventh position, and it was replaced by the Smartisan Nut R1. Next up are the Vivo NEX, Xiaomi Mi 8 Explorer and Oppo Find X.

The second and last new entry is the Samsung Galaxy Note 9 occupying the eighth position, which, surprisingly enough, is the only non-Chinese model featured in this chart. The last two models are the Xiaomi Mi 8 and the Xiaomi Mi MIX 2S.

All 10 models are powered by Qualcomm's Snapdragon 845 SoC, the only differences between each implementation being heat management, frequencies, RAM speed and capacity, plus storage speed. The next two months should see commercial releases for the new Kirin 980 SoC, so a few new models are bound to be featured as new entries in the upcoming AnTuTu rankings.