Dell XPS 17 9710 with RTX 3060 Laptop GPU shows Geekbench OpenCL supremacy over M1 Max-powered Apple MacBook Pro 16, but Apple silicon still has the efficiency advantage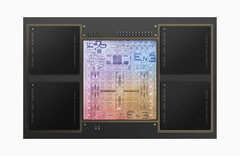 Working For Notebookcheck
Are you a techie who knows how to write? Then join our Team! English native speakers welcome!
News Writer (AUS/NZL based) - Details here
German-English-Translator - Details here (English native speakers preferred)
Apple's recently announced MacBook Pro 14 and MacBook Pro 16 have begun shipping, and it is likely that several testers may have got their devices already gauging by the steady number of benchmarks we've been seeing of late. The Geekbench database, too, is being steadily populated with several M1 Max compute scores.
These scores make for some interesting comparisons. In this case, we have a face-off between a Dell XPS 17 9710 featuring a Core i7-11800H and an Nvidia GeForce RTX 3060 Laptop GPU and a MacBook Pro 16 with the M1 Max SoC. According to the listing, the M1 Max appears to be sporting 64 GB of unified memory, 10 CPU cores, and 32 compute units.
Comparison of OpenCL performance between these two systems shows the Nvidia RTX 3060 Laptop in the XPS 17 9710 to be 51.3% faster than the M1 Max's GPU in the Geekbench 5.4 OpenCL benchmark.
Previously, we had seen the M1 Max just inching past the RTX 3060 Laptop in GFXBench, though we were not exactly sure which TGP variant of the Nvidia card was actually used in that test. In that article, we had noted that the advantages of these GPUs can vary depending on the exact workflow. That is exactly what seems to be happening here.
Geekbench reports the number of compute units in the M1 Max as 32. Now, there is no standardized definition for what a core and compute unit are when it comes to GPUs and Geekbench's use of the term "compute unit" here may actually refer to the core count that Apple is alluding to in the specs.
That being said, we do know for a fact that an M1 SoC's core is made of 16 execution units with eight compute units each. So, a 32-core M1 Max will have 32*16*8 = 4,096 streaming multiprocessors (SM). In the case of the RTX 3060 Laptop GPU, the 30 compute units translate to 3,840 SMs.
SM count alone does not translate to real-world benefits. GPUs are incredibly complex pieces of silicon, so a GPU with a lower SM count may perform poor in one test and excel in another. Irrespective of performance numbers, the take home message here is how Apple has managed to scale performance and efficiency in a manner that's previously unheard of before.
While compute performance may give a very superficial overview as to what to expect from the chip, the only way to assess true performance is to subject it to a bevy of benchmarks, which is something that we look forward to doing in the coming weeks.
Pre-order the Apple MacBook Pro 16 with M1 Pro SoC on Amazon
Top 10 Laptops
Multimedia, Budget Multimedia, Gaming, Budget Gaming, Lightweight Gaming, Business, Budget Office, Workstation, Subnotebooks, Ultrabooks, Chromebooks
under 300 USD/Euros, under 500 USD/Euros, 1,000 USD/Euros, for University Students, Best Displays
Top 10 Smartphones
Smartphones, Phablets, ≤6-inch, Camera Smartphones