Dangerous challenges and pranks join porn and hate speech on YouTube's banned list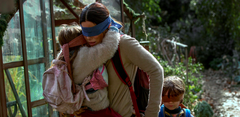 YouTube has amended its policies in regard to content that depicts dangerous challenges and pranks. Videos that encourage or show activities that could lead to physical harm, make people think they are in danger, or show pranks that could be upsetting to children, have all been banned. The recent popularity of the so-called "Bird Box Challenge" is believed to have been a contributing factor to the updated policy.
It seems there was a time that one of the main reasons for browsing through videos on YouTube was to watch people making fools of themselves or of others with ridiculous pranks (such as copying stunts shown on Jackass, regardless of warnings). But it seems the policymakers at YouTube have become concerned about the current raft of Bird Box-inspired pranks, which involve people carrying out a variety of tasks whilst blindfolded. The Google-owned property has issued policy updates to cover these types of videos:
Challenges that present an apparent risk of death are not allowed on YouTube. Content that features a child participating in dangerous challenges that pose an imminent risk of injury or bodily harm are also not allowed on YouTube. We also don't allow pranks that lead victims to believe they are in physical danger or that can cause real physical harm. Dangerous or abusive pranks that may cause emotional distress to children are not allowed.
It's understandable that the social network site should be concerned about the content of videos that are uploaded. Ars Technica pointed out that a young woman was involved in an auto accident whilst carrying out the Bird Box Challenge. There was also the infamous incident of a YouTuber called Monalisa Perez, who was jailed for six months after shooting and killing her boyfriend while creating a stunt video to upload to their channel. The man involved, Pedro Ruiz, managed to convince her to fire a gun at his head from a one-foot distance while he protected himself with a hardback encyclopedia.
Dangerous stunts clearly can lead to fatal accidents, and the moderators at YouTube have been informed to clampdown on these kinds of challenges, especially those involving children. There have even been instances of parents uploading videos showing themselves terrifying their children, including one clip (possibly staged) where a parent dresses up in a horror mask and wields a running chainsaw to wake up his offspring.