YouTube offline viewing reaches 109 new markets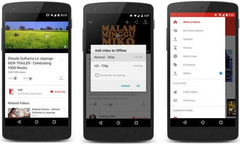 Although the YouTube mobile apps have been providing offline viewing capabilities for more than two years, the availability of this feature that can come quite handy in certain situations was limited to a list of select markets. That list was not long at all, but now 109 new items have been added to it, bringing the total of markets with YouTube offline viewing support to no less than 125.
Until this week, YouTube offline viewing was only available in 16 countries, most of them emerging countries with an impressive number of smartphone users who often have to struggle with low mobile data speeds and connectivity issues. The largest market on this list is India, accompanied by countries like Egipt, Ghana, Algeria, Iordania, Pakistan, Thailand, Vietnam, and a few others. Now, the time has come for a solid update, since no less than 109 new markets have just received support for offline viewing.
The catch with YouTube offline viewing is that, even in the areas where it is supposed to be available, not all videos can be selected for offline availability. Sadly, downloaded videos via the YouTube app are available for a limited period. However, this depends on the market. For example, non-music content can be watched for up to 29 days after being downloaded.
When a video is available for offline viewing, in its watch page a new Download icon shows up after Thumbs Up, Thumbs Down, and Share, just before the Add To option. After tapping the button, the download starts; once it is done, the button turns to blue and says Downloaded. Discontinued downloads due to connectivity issues resume automatically when the connection to a WiFi network or mobile data becomes available. The Download button also shows up for the videos not available for offline viewing, but in this case the button is greyed out.
The (very long) list of new markets supporting YouTube offline viewing includes the following countries: Iran, Iraq, Israel, Kuwait, Nepal, Palestine, Saudi Arabia, Slovakia, Cameroon, Afghanistan, and many more. The YouTube app is freely available for both Android and iOS devices.
At last, we should also recall the fact that YouTube users in Australia, South Korea, Mexico, New Zealand, and The United States can subscribe to YouTube Red and, in addition to the ad-free experience and the exclusive content available for subscribers, they will also be able to easily download videos for offline viewing.
Working For Notebookcheck
Are you a techie who knows how to write? Then join our Team! Especially English native speakers welcome!
Currently wanted:
News and Editorial Editor - Details here