Complete Google Pixel 6 and Pixel 6 Pro product pages confirm Tensor SoC details, camera equipment, battery information, and much more about the upcoming phones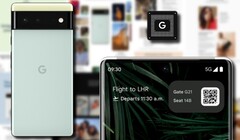 Carphone Warehouse (via @evleaks) has published a promotional product page for both the Google Pixel 6 and Google Pixel 6 Pro. While it's unclear if this is an accident by the retailer or yet another example of Google "leaking" something about its upcoming flagship products to keep the hype train moving, it's potentially one of the largest reveals yet. Many of the details included in the product pages about the Pixel 6 and Pixel 6 Pro have already been leaked anyway, but there are some tasty tidbits to find among the marketing blurb.
Starting with the Pixel 6 page, Google goes straight to discussing the Tensor SoC, which has security support available to it provided by the Titan M2 chip. Here is where the search engine giant confirms five years of updates are coming for the Pixel 6 phones. The company brags that Tensor offers "up to 80% faster performance", presumably compared to older Pixel devices, and it can assist with those who fancy trying their hand at a bit of astrophotography.
The 50 MP main camera lens is the next star attraction on the Pixel 6 product page, with Google claiming it delivers "150% more light than Pixel 5". Magic Eraser is available to get rid of photo blemishes and deblurring software is also onboard. Next up is the battery, with Extreme Battery Saver promising up to 48 hours of life when switched on. Real-time translation is highlighted and there is a brief overview of the advanced security features and user interface.
As for the Google Pixel 6 Pro product page, the company proudly boasts that this is the "smartest and fastest Pixel yet". Tensor offers powerful built-in computational photography software and improved AI for the Pixel 6 Pro, which features a triple camera arrangement of 50 MP (wide) + 12 MP (ultra wide) + 48 MP (telephoto). Users of the Pixel 6 Pro can expect up to 50% battery charge within 30 minutes when using a Google 30 W USB-C charger – which is, of course, sold separately.
The Pixel 6 Pro page continues with highlighting the smartphone's durability (Gorilla Glass Victus) and gives some focus to the display with its 120 Hz refresh rate that can be reduced to 10 Hz for battery saving. There is also a look at the Pixel 6 Pro's security abilities, with Google stating it has "more layers of hardware security than any other phone". It's an astonishing and thorough leak of the Pixel 6 and Pixel 6 Pro smartphones that should whet the appetites of those waiting for the official release date, which is expected to be October 19.
My interest in technology began after I was presented with an Atari 800XL home computer in the mid-1980s. I especially enjoy writing about technological advances, compelling rumors, and intriguing tech-related leaks. I have a degree in International Relations and Strategic Studies and count my family, reading, writing, and travel as the main passions of my life. I have been with Notebookcheck since 2012.