Cloud-independent Microsoft Office 2019 now available for Windows and macOS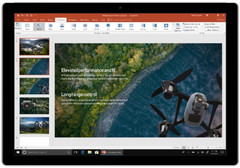 Although there is still cloud support available across the apps of the new Microsoft Office 2019 suite, independence from the cloud — coming in the shape of an "on premises" version — is an excellent offering for the customers who do not need/do not trust/are not ready for the cloud. Obviously, there are some new features in the package as well.
Those not happy with the free office suites available for Windows and macOS can celebrate: Microsoft has just released a new version of its popular Office suite that can be used without bothering with any cloud-related features. Obviously, there are also basic cloud features for those who need them, but the idea behind this new release is to provide an on-premises solution and to bring those looking for advanced cloud functionality to Office 365.
The Microsoft Office 2019 suite is available for both Windows and macOS, but some apps — namely Project 2019, Visio 2019, Access 2019, and Publisher 2019 — are only available for Windows. Both macOS and Windows users get access to OneNote, as well as Word 2019, Excel 2019, PowerPoint 2019, and Outlook 2019.
There are quite a few new features and improvements that Microsoft Office 2019 delivers, and these are some highlights: Morph and Zoom in PowerPoint 2019, new data analysis features, including new formulas and charts and enhancements to PowerPivot in Excel 2019, Focused Inbox in Outlook 2019, and much more.
Commercial volume license (trusted) customers can get Office 2019 already, while all the others should be able to get it in the next weeks.