CAT S Series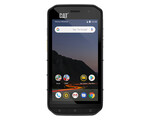 Processor:
Mediatek Mediatek Helio P20 MT6757, Qualcomm Snapdragon 400 MSM8926, Qualcomm Snapdragon 617 MSM8952, Qualcomm Snapdragon 630
Graphics Adapter:
ARM Mali-T880 MP2, Qualcomm Adreno 305, Qualcomm Adreno 405, Qualcomm Adreno 508
Display:
4.7 inch, 5 inch, 5.2 inch
Weight:
0.185kg, 0.218kg, 0.223kg, 0.25kg, 0.258kg
Price:
400, 500, 600, 700, 899 euro
price: 74%, performance: 70%, features: 71%, display: 78%
mobility: 94%, workmanship: 90%, ergonomy: 74%, emissions: 94%
CAT S50
Specifications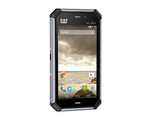 Notebook:
CAT S50
Processor:
Qualcomm Snapdragon 400 MSM8926
Graphics Adapter:
Qualcomm Adreno 305
Display:
4.7 inch, 16:9, 1280 x 720 pixels
Weight:
0.185kg
Price:
400 euro
Links:
CAT homepage
S50 (Model)
Pricecompare
Foreign Reviews
CAT S60
The CAT S60 is a highly robust, niche smartphone built for trades person. Built like a tank, the reinforced die cast frame can resist drops from 1.8 m and surpasses military specifications. Design is unique with the black chassis surrounded by a silver bezel and the rear carbon fiber cover contains the image sensor technology. There is a gold switch at the top of the front screen that allows the user to go into lock-in mode, which increases the 2M underwater rating to 5M. Display on the CAT S60 is a 4.7 inch a-Si AHVA panel with good color saturation and clarity protected by Corning Gorilla Glass 4. The Android 6.0 Marshmallow device is equipped with 2 quad-core Cortex-A53 chips, one at 1.2 GHz and another at 1.5 GHz, 3 GB of RAM, an Adreno 405 GPU, and an internal storage of 32 GB. There is a 13 MP autofocus rear camera and a secondary 5 MP front shooter. Both cameras provide high quality image rendition. The main feature that sets the CAT S60 apart is its thermal imaging capability provided by the FLIR thermal camera. Flir is well known in the thermal imaging sector with its devices being used in the heavy industry and by military operations. Other features on the device includes A-GPS, an FM radio module, a USB host, Bluetooth 4.1 and a non-removable Li-Ion battery rated at 3800 mAh.
Specifications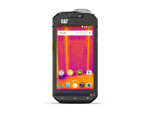 Notebook:
CAT S60
Processor:
Qualcomm Snapdragon 617 MSM8952
Graphics Adapter:
Qualcomm Adreno 405
Display:
4.7 inch, 16:9, 1280 x 720 pixels
Weight:
0.223kg
Price:
700 euro
Links:
CAT homepage
S60 (Model)
Pricecompare
Average Score:
Average of 23 scores (from 41 reviews)
Foreign Reviews
CAT S41
The Cat S41 is part of the Caterpillar brand. Caterpillar is known for its bright yellow and monstrous construction machines. Bullitt Mobile Limited, a licensee, sells smartphones under this brand for those who are used to dealing with big tools all day long. According to www.digitaltrends.com, Bullitt has already turned out phones under the JCB, Caterpillar, and Kodak brands (e.g. the Kodak Ektra). The Bullitt Group focuses on producing rugged phones. The Cat S41 is IP68 certified and MIL-STD-810G compliant. It uses mid-range hardware and can be used as an emergency charger.
Design and Connectivity
The ruggedized 5-inch phone is both bigger (152 x 75 x 12.85 mm) and heavier (218 g) than a standard smartphone with a similar screen size. www.techradar.com describes that it features a rubberized outer casing with a Cat logo displayed prominently on top (next to an 8-megapixel front-facing camera), and at the back of the device (below a 13-megapixel Sony camera sensor). They mention large physical system buttons, something which is essential when you are working mostly outdoors, with gloves or dirty fingers. All ports are covered by flaps. The S41 features an earphone jack at the top, and a speaker grill and a microUSB port at the base. The left-hand side houses the SIM tray (nano SIM), a microSD card slot and a programmable key. The volume rocker and the power button can be found on the opposite side. There are dual SIM (~500 USD / 350 EUR as of 02-16-18) and single SIM (~ 450 USD / 500 EUR as of 02-16-18) variants available on amazon.com / amazon.de. www.trustedreviews.com finds, "the CAT S41 has been unashamedly designed for durability, not visual flair or comfort in hand." www.tomsguide.com confirms that the phone is difficult to grasp for those with small hands. They summarize, "The S41 doesn't try to play down its rugged roots like the Galaxy S8 Active. It's not particularly elegant, but then, that's not the point." The phone features a kevlar laced polymer chassis and a Gorilla Glass 5 front. It is IP68 certified, i.e., it has been tested to survive drops from heights of up to 1.8 meters, temperature between -25 C to 50 C and prolonged submersion in water at depths of up to two meters. The tester from www.trustedreviews.com writes, "I didn't get a chance to take the phone down to 50m depths, but it easily survived an attempted at drowning in my bathtub with its port covers plugged." Moreover, it is MIL-STD-810G compliant. The manual (can be downloaded from www.catphones.com) specifies support for 802.11 a (5GHz), 802.11 b/g (2.4GHz), 802.11 n (2.4G/5G) Wi-Fi (no faster 802.11ac here!), Bluetooth 4.2, GPS, AGPS, Glonass, and E911, FM RX, WiFi Direct, NFC. The following bands are supported 2G Band: GSM, GPRS, EDGE (Class 33), 3G Band: HSPA, R9, 4G Band: LTE Cat6. www.androidheadlines.com mentions that the Cat S41 supports plenty of global cellular network bands including those in the U.S. that are 4G, but it won't work on Sprint or Verizon. In contrast to the LG X venture and the Samsung S8 Active, the S41 lacks biometric authentication such as a fingerprint reader. It features the usual proximity and light sensor, accelerometer, and e-compass. Sadly, the phone uses an older micro-USB charging port instead of USB-C (better charge and data speeds). While a FLIR thermal imaging sensor made the older CAT S60 interesting, the S41 lacks such a unique selling point. Nevertheless, www.trustedreviews.com think, "The S41 earns its place as one of the best ruggedised handsets yet."
Display
The S41 features a capacitive 5.0-inch display with Full HD resolution, which supports 4 points touch. The tester from www.trustedreviews.com evaluates that the FHD resolution ensures everything looks suitable sharp, but colors are a little cool for his liking, and whites are far from the cleanest he has seen. Moreover, he mentions that the phone does not come close to matching competing smartphones, like the Asus Zenfone 4, let alone mobile HDR-ready handsets such as the Galaxy S8 when it comes to max brightness. In contrast, www.tomsguide.com writes that the screen is bright at 595 nits. In their testing, the S41 reproduced 116.6 percent of the sRGB spectrum and turned in a Delta-E color accuracy score of 1.46. www.digitaltrends.com evaluates, "The 5-inch TFT screen is average. It's a little dull, but still visible in direct sunlight". The tester of www.androidauthority.com felt very mixed about the display. He mentions fine colors and a respectable pixel density of 441 PPI, but he thinks that the large bezels let the phone's display feel outdated. The CAT S41 can be used with gloves on, but it attracts fingerprints easily. www.gsmarena.com finds that an oleophobic coating would have been appreciated since this is the kind of phone that has to worry about more than skin oil.
Camera
The S41 features a 13 MP AF rear camera with LED flash and a 8 MP FF front camera. www.trustedreviews.com thinks that while the camera combo is not industry-leading, but it is more than good enough for everyday tasks, though the 13 MP camera cannot match the shutter speeds or low-light performance of top-end dual-lens cameras. In contrast, www.tomsguide.com is really disappointed about the S41's camera. They summarize, "The S41's shooter is so bad, it makes most mediocre budget handsets look like iPhones and Pixels by comparison." They recommend never to use HDR on the S41 as this will worsen the image quality. www.androidauthority.com shares the opinion that the cameras are terrible. In contrast, www.zdnet.com reports, "The camera isn't going to help you win photo contests, but in decent lighting outside (which is likely where many use such rugged phones) the S41 fared well."
Software
The handset runs stock Android 7.0 Nougat, Google's previous-generation operating system. Duplicate applications and bloatware have been kept to a minimum. www.trustedreviews.com confirms, "Outside of minor additions, like the aquatic mode, to the OS's shortcuts menu, the UI is pretty much stock Android." They think that the underwater aquatic mode could be useful for plumbers, since it could be great for people using the phone to spot the source of a leak, for example. They write that you will find a wealth of DIY and industry-specific services that help boost the phone's enthusiast and industry appeal including the SOS Location Alert services, plus the Toolbox marketplace.
Hardware and Performance
With the Mediatek MT6757 (also known as Helio P20) and the Mali-T880 GPU, the S41 boasts faster hardware than the S60 (Snapdragon 617 Adreno 405). It features 3 GB of RAM and 32 GB on-board storage. The hardware is mid-range and targets average users. It has not been designed for gamers. www.techradar.com confirms, "The phone is fast enough for an average non-mobile gamer: there are enough resources, both in terms of compute power (don't forget that the CPU has eight cores) and storage, to keep Android and a slew of apps running happily for the foreseeable future." www.trustedreviews.com shares the same opinion, "The CAT phone opens applications reasonably smoothly and with no noticeable lag. Web browsing and video streaming run fine." They mention that competing consumer-focused phones perform better in graphics performance and load times on titles such as Riptide GP2, but think that this is hardly a deal breaker in view of the S41's focus. According to www.tomsguide.com, the S41 takes a hair longer than it should to boot up, but once it is ready, it performs admirably most of the time and you can expect the S41 to handle some light gaming. www.digitaltrends.com finds the Android 7.0 software experience to be smooth and responsive.
Battery Life
The 5.000 mAh battery is non-removable. Bullitt claims that it can keep the phone running for 44 days of standby time and 38 hours talk time. The phone can also serve as a emergency power bank using Cat's proprietary Battery Share cable. You can set a minimal charge level, after which charging stops automatically. So, you do not have to worry about draining the phone's battery. The tester of www.trustedreviews.com praises,"The 5000mAh battery puts every other phone, including the gigantic Huawei Mate 10 Pro and Razer Phone, to shame when it comes to capacity, and makes the S41 one of the only phones I've tested that can constantly last a full two days off one charge with regular use." He mentions that the The S41's stamina even remained impressive when he threw more intensive tasks at it. www.tomsguide.com writes that this one of the longest-lasting smartphones they have ever tested. It lasted 15 hours and 19 minutes in their battery test (continuous website streaming over AT&T LTE). According to www.tomsguide.com the S41 lacks wireless charging, but it supports fast charging with the included Pump Express 2.0 wall adapter.
Speakers and Call quality
As many phones, the S41 only has one speaker. According to www.androidheadlines.com it does not belong to the best its kind. They report that it began to sound a bit tinny and would also start to sound blown out just a little bit at higher volumes (lower than they would have expected). www.trustedreviews.com observed "a tendency to pick up a minor hiss when recording or taking and making calls." Hence, headphones are recommended for really good quality audio. According to www.androidheadlines.com phone calls sounded pretty clear on their end and they were told that they sounded fine on the other end too.
Summary
Advantages are robust, albeit bulky build, excellent battery life, and stock Android. A highlight is that the phone can serve as a power bank. Otherwise you will get a mid-range hardware. Moreover, the phone is a little pricey. www.techradar.com summarizes that the S41's IP68 rating and subdued rugged looks will make it popular with builders and outdoor professionals. However they note that a unique selling point is missing so that many might look for a similar smartphone at a lower price and give the Chinese AGM X1 and the Blackview BV7000 as examples. www.trustedreviews.com recommends the phone to self employed handy-person or extreme-sports enthusiast in need of a rugged smartphones. www.tomsguide.com explains that there are only few options when you are after a truly durable smartphone, which range from the quite expensive Samsung's Galaxy S8 Active, which is both tough and powerful, to devices like LG's X venture, a budget handsets, which compromises heavily on specs and features. In there opinion, the S41 does not make much sense unless you spend a lot of time on a construction site or in the unforgiving outdoors, away from a wall outlet. www.digitaltrends.com finds, "As durable and long-lasting the Cat S41 is, we don't think those are enough reasons to buy it with its current price tag."
Sources
https://www.catphones.com/en_gb/cat-s41-smartphone.html
https://www.digitaltrends.com/mobile/bullitt-builds-cat-kodak-phones/
http://www.techradar.com/reviews/cat-s41
http://www.trustedreviews.com/reviews/cat-s41
https://www.tomsguide.com/us/cat-s41,review-4814.html
https://www.digitaltrends.com/cell-phone-reviews/cat-s41-review/
https://www.androidauthority.com/cat-s41-review-815500/
http://www.zdnet.com/product/cat-s41-4g-lte-32-gb-gsm-smartphone/
https://www.androidheadlines.com/2017/11/cat-s41-review-rugged-integrated-power-bank.html
https://www.gsmarena.com/cat_s41_and_cat_s31_handson_review-news-27054.php
https://www.equipmentworld.com/cat-s41-review/
https://www.heise.de/newsticker/meldung/Cat-S41-Outdoor-Smartphone-laedt-dank-Riesen-Akku-andere-Handys-3819058.html Press Review by Martina Osztovits
Specifications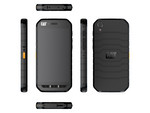 Notebook:
CAT S41
Processor:
Mediatek Mediatek Helio P20 MT6757
Graphics Adapter:
ARM Mali-T880 MP2
Display:
5 inch, 16:9, 1920 x 1080 pixels
Weight:
0.218kg
Price:
500 euro
Links:
CAT homepage
Pricecompare
Average Score:
Average of 26 scores (from 46 reviews)
Foreign Reviews
CAT S61
The CAT S61 is a smartphone that features an advanced thermal imaging camera, a laser distance tool, and an air quality monitor. It is a great rugged phone that's ideal for a variety of different professions. It is capable of serving engineers, plumbers, builders, farmers, the military, and other groups seeking a particular set of skills from their phones. The only downsides are performance issues and a fairly ridiculous price which will compromise its appeal to hobbyists. The Cat S61 has IP68 and IP69 dust and water resistance so it can handle most environments. It is also rated to handle environments from -25 to 55 degrees Celsius. This is a chunky tank of a phone, capable of surviving falls, bumps, and dunks without a case. On the casing, it has a thick, matte aluminium frame with a glossy edge contrasting with the black plastic, and a distinctive, angled protrusion at the top bears the Cat logo. The 5.2-inch display has three physical buttons below it for access to the back, home, and recent apps, enabling a user to navigate the Android interface even if their hands are wet or dirty. There's a polycarbonate lip around the screen to prevent it from touching down if a user drops their Cat S61; it also comes with a screen protector already applied over the Gorilla Glass 5 display. Screen quality is always one of the first areas to be sacrificed on rugged phones. This remains the case with the S61. The 5.2-inch screen offers a significant upgrade on the S60's panel, but it still doesn't match equivalently priced non-rugged phones. It's close to half an inch (1.27 cm) larger than the S60's 4.7-inch screen, plus the jump from 720p to FHD makes it significantly sharper. Holding the S61 next to the S60, the text is sharper and the screen is generally more pleasant to use. The screen temperature has also been improved. The screen has lost the cool, dull look that plagued the S61. Brightness levels are also better, although nowhere near mobile HDR levels. The hardware specifications feature the slower and older Snapdragon 660 instead, and 4 GB of RAM and 64 GB onboard storage, which places it just below flagship devices. Just to note that the S61 was never meant to compete against the latest smartphones with top specifications. The rest of the specification is fairly standard: 802.11ac Wi-Fi, Bluetooth 5.0, NFC, a 16-megapixel rear camera, 8-megapixel front camera, fast charging capabilities (via Qualcomm's Quick Charge 3.0 technology) and a tiny 18 W power supply. The CAT S61 currently runs on Android Oreo. The company has also confirmed it will be upgraded to the newer version, Android Pie when it arrives later this year. Security updates have also been guaranteed for at least the next three years. Hands-on article by Jagadisa Rajarathnam
Specifications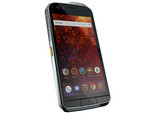 Notebook:
CAT S61
Processor:
Qualcomm Snapdragon 630
Graphics Adapter:
Qualcomm Adreno 508
Display:
5.2 inch, 16:9, 1920 x 1080 pixels
Weight:
0.25kg
Price:
899 euro
Links:
CAT homepage
Pricecompare
Average Score:
Average of 24 scores (from 54 reviews)
Foreign Reviews
CAT S48c
Specifications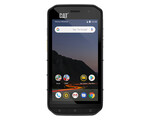 Notebook:
CAT S48c
Processor:
Qualcomm Snapdragon 630
Graphics Adapter:
Qualcomm Adreno 508
Display:
5 inch, 16:9, 1920 x 1080 pixels
Weight:
0.258kg
Price:
600 euro
Links:
CAT homepage
Pricecompare
Average Score:
Average of 1 scores (from 2 reviews)
Comment
CAT
:
CAT, which can be easier found under CAT Phones in the web, gets seldom reviewed, does hardly have any market shares and achieves average ratings (as of 2016).
---
These graphics cards are not suited for Windows 3D games. Office and Internet surfing however is possible.
Qualcomm Adreno 305
: Integrated mid-range graphics card in the Snapdragon 400 and S4 Plus SoCs that supports OpenGL ES 3.0 and features unified shaders.Only some 3D games with very low demands are playable with these cards.
Qualcomm Adreno 405
: Integrated graphics card for ARM based SoCs. Depending on the used SoC the clock rate is around 500 MHz and features 48 unified shaders.
Qualcomm Adreno 508
: Integrated graphics card in the Snapdragon 630 SoC based on the Adreno 500 architecture. According to Qualcomm "up to 30% faster graphics rendering than previous designs". Non demanding games should be playable with these graphics cards.
ARM Mali-T880 MP2
: Mobile graphics solution for tablets and smartphones, which can be found in ARM SoCs (for mostly Android based devices). The Mali-T880 can be built with 1 to 16 clusters, where the MP2 version features 2 clusters/cores.» Further information can be found in our Comparison of Mobile Graphics Cards and the corresponding Benchmark List.
---
Qualcomm Snapdragon
:
400 MSM8926
: ARM Cortex-A7 Quad-Core clocked at up to 1.2 GHz, manufactured in 28nm. Supports LTE.
617 MSM8952
: Mid-range ARM SoC with 8 CPU cores (Cortex-A53, 64-bit capable) and an Adreno 405 GPU. Manufactured in a 28 nm LP process.
630
: Mid-range octa-core SoC with eight ARM Cortex-A53 cpu cores at up to 2.2 GHz, an Adreno 508 GPU, a LPDDR4-2666 memory controller and a X12 LTE (Cat 13/12, 300 / 150 MBit) modem. Manufactured in the modern 14nm process.
Mediatek Mediatek
:
Helio P20 MT6757
: ARM based octa core SoC (8x ARM Cortex-A53) clocked at up to 2.3 GHz. The chip also includes a Cat.6 LTE modem.
---
» To find out how fine a display is, see our DPI List.
---
0.185 kg:
Only few smartphones are more lightweight than this.
0.258 kg:
This weight is typical for smartphones.
---
74.67%
: This rating is bad. Most notebooks are better rated. This is not a recommendation for purchase.» Further information can be found in our Notebook Purchase Guide.