AirPods Pro 2: 3 rumored features that will bring music to your ears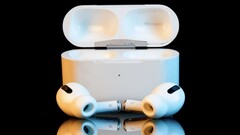 The choices and comments made on this list belong solely to the author.
1. Higher audio fidelity
A little under a year ago, Apple launched lossless audio support for its entire catalog of over 75 million songs. However, due to limited bandwidth on Bluetooth-based products, including Apple's own AirPods lineup, lossless audio compatibility was limited to third-party wired headphones. Due to the nature of the analog-to-digital conversion tech in Apple's lightning to 3.5 mm audio cable, customers who wished to enjoy lossless playback via a wired connection on Apple's US$549 Airpods Max were shockingly out of luck.
Thankfully, Bloomberg's Mark Gurman predicts that users can expect to see lossless audio support included in the next iteration of AirPods Pro. It will be interesting to see if Apple develops a new wireless communication protocol to enable the lossless playback on wireless buds. Perhaps a refreshed version of AirPlay capable of transmitting lossless audio with limited latency is in the cards.
2. Design overhaul
Included in an earlier publication of Mark Gurman's Power On newsletter is the mention of AirPods Pro 2 featuring a significantly shorter stem or no stem design at all.
In addition to the refined bud design, a revised charging case is also expected to include a speaker for Find My support and a moderately altered form factor more similar to that of the narrower AirPods 3 charging case.
3. Health tech and silicon upgrade
In December of 2021, reputable leaker Ming-Chi Kuo corroborated Gurman's design predictions, adding that fans of AirPods Pro can expect to see a next-gen version include a "significantly upgraded chip" enabling support for Apple Lossless Codec (ALAC) and unique fitness-tracking features. A new health capability could allow AirPods Pro 2 to estimate an individual's respiratory rate using special sound waves and microphone feedback.
Self-proclaimed coffee connoisseur and tech enthusiast Brahm Shank is captivated by the impact of consumer tech: "It's profoundly moving when people discover that the phone in their pocket or the tiny computer on their wrist has the power to enrich their lives in ways they never imagined." Apple, Inc. and its unique position at the intersection of technology and the creative arts, resonates deeply with Brahm and his passion for helping people unleash their potential using technology. Over the years, Brahm has held various podcasts - including famed technologist David Pogue of The New York Times on topics such as Big Tech and digital wellness.