Acer Predator GM7000 2TB PCIe4 NVMe SSD Benchmarked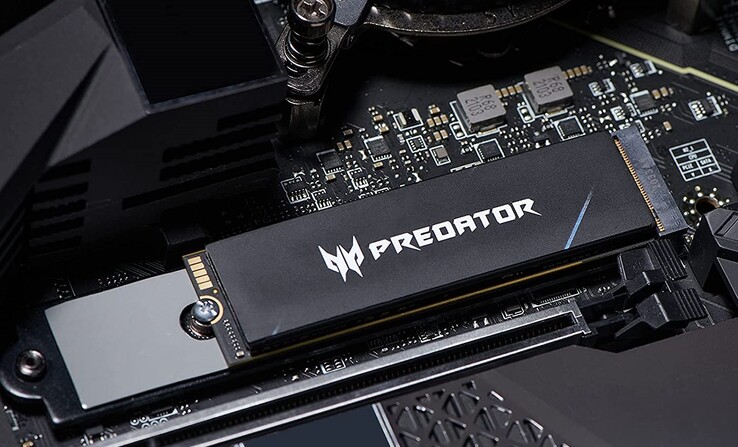 Acer is launching its high-end 2 TB PCIe4 x4 NVMe SSD this week under the Predator GM7000 family. These 3D TLC drives each use an Innogrid Rainier IG5236 controller designed specifically for the PCIe x4 inteface fo sequential read and write speeds of up to 7.4 GB/s and 6.4 GB/s, respectively, which is exactly what the 2 TB GM7000 can offer.
Additional specifications on the GM7000 series can be found on its official product page here.
Performance
512 GB (P/N: BL.9BWWR.104)
1 TB (P/N: BL.9BWWR.105)
2 TB (P/N: BL.9BWWR.106)
4K Read (Maximum)
200K
400K
700K
4K Write (Maximum)
700K
1000K
700K
Sequential Read (Maximum)
7400 MB/s
7400 MB/s
7400 MB/s
Sequential Write (Maximum)
3400 MB/s
6400 MB/s
6700 MB/s
Latency Read (Typical)
0.014 ms
0.013 ms
0.016 ms
Latency Write (Typical)
0.045 ms
0.028 ms
0.019 ms
Warranty (TBW)
300 TB


2,000,000 hr MTBF



600 TB
2,000,000 hr MTBF

1200 TB
2,000,000 MTBF

MSRP
$119 USD
$179 USD
$349 USD
Note: The manufacturer may use components from different suppliers including display panels, drives or memory sticks with similar specifications.
Test System
Our host PC is the Intel NUC11PAQi7 mini PC which fully supports PCIe4 x4 SSDs like our GM7000. Acer has also provided for us an aluminum heat sink which is currently sold separately from the drive, but it may come as a bundle in the future. The drive itself has a built-in graphene foam pad with adhesive on top for applying the heat sink.

AS SSD & CrystalDiskMark
CrystalDiskMark shows a top read rate of about 6700 MB/s against the advertised 7400 MB/s. Write rates in particular are more disappointing at only 4000 MB/s. Reading and writing of very small 4K block sizes are slower than expected as well with results that are significantly slower than what we've seen from other PCIe4 SSDs like the Samsung PM9A1.
Acer Predator SSD GM7000 2TB
CDM 5/6 Read Seq Q32T1: 5420 MB/s
CDM 5/6 Write Seq Q32T1: 3492 MB/s
CDM 5/6 Read 4K Q32T1: 439 MB/s
CDM 5/6 Write 4K Q32T1: 550 MB/s
CDM 5 Read Seq: 2195 MB/s
CDM 5 Write Seq: 2388 MB/s
CDM 5/6 Read 4K: 45.77 MB/s
CDM 5/6 Write 4K: 184.3 MB/s
Disk Throttling: DiskSpd Read Loop, Queue Depth 8
ATTO
ATTO results confirm the relatively slow performance at very small I/O sizes. At 1 KB, its performance is only about half that of the PCIe3 Asura Genesis Xtreme or HP EX950. Users aren't getting the full performance of the drive until reaching at least 4 MB.
Temperature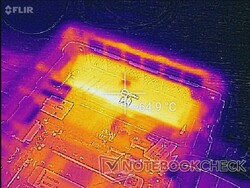 We ran the DiskSpeed read loop test continuously to check for maximum temperature with the heat sink installed. At its peak, the drive would reach 85 C which is just 10 C shy from the critical temperature threshold of the model. Most users will not be transferring large files for such long periods, however, but a well-ventilated chassis is definitely recommended to keep temperatures in check.
The heat sink itself can become very hot at over 65 C when the drive is under load. We suspect that removing the graphene foam pad and replacing it with double-sided sticky thermal pads may actually improve the effectiveness of the heat sink even though this would be against the printed instructions.
Verdict
Though transfer rates on the Predator GM7000 are faster than any PCIe3 SSD when dealing with larger file sizes, performance can be slower when dealing with smaller 4K or 4K-64 clusters. The Samsung PM9A1 is still the faster PCIe4 drive assuming you can find one available. At $349 USD for our 2 TB option, the Acer drive does come a bit cheaper than the 2 TB Samsung 980 Pro or 2 TB Seagate FireCuda 530 at the moment albeit it will entail somewhat slower performance.
Price and availability
Availability is currently limited through major retailers like Amazon at the time of writing. The 512 GB, 1 TB, and 2 TB capacities have an MSRP of $119, $179, and $349 USD, respectively, without the heat sink.
After graduating with a B.S. in environmental hydrodynamics from the University of California, I studied reactor physics to become licensed by the U.S. NRC to operate nuclear reactors. There's a striking level of appreciation you gain for everyday consumer electronics after working with modern nuclear reactivity systems astonishingly powered by computers from the 80s. When I'm not managing day-to-day activities and US review articles on Notebookcheck, you can catch me following the eSports scene and the latest gaming news.