AMD Ryzen 7 5700G APU in HP Pavilion Desktop naturally outperforms the Ryzen 7 4700G in CPU performance benchmarks and offers distinct improvements in iGPU comparison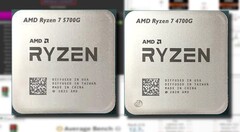 The AMD Ryzen 7 5700G has been spotted by noted data-miner APISAK being tested in synthetic benchmarks. A new record for the Zen 3 Cezanne APU turned up on the CPU-Z Validator site, and it also made an appearance on the controversial UserBenchmark website as part of an HP Pavilion Desktop system (TP01-2xxx). Although the latter benchmark is frequently accused of showing massive Intel bias, we will simply compare the Ryzen 7 5700G and its iGPU with the Ryzen 7 4700G and its iGPU here. The CPU-Z score actually only confirms what has been previously leaked about the chip: It is a single-thread/core beast that can churn out 631 points in this test leaving it +16.69% ahead of its predecessor.
UserBenchmark provides four different relevant scores here for the 1-core and 2-core comparison: The AMD Ryzen 7 5700G manages 154 points in the 1-core test, 316 points in the 2-core test, a "Normal" workload score of 184 points, and an awarded average bench of 98.5%. The average bench score puts the Zen 3 Cezanne desktop APU neatly alongside the Ryzen 7 5800 in UserBenchmark's CPU chart, and the results hold up well in comparison to the average marks of the AMD Ryzen 7 4700G. Although it is potentially theoretical maximum performance versus average, the newer chip manages gains of +9.22% (1-core), +13.67% (2-core), +12.20% ("Normal"), and +11.68% (bench).
These results are not spectacular in terms of CPU performance improvements but still attractive enough to those who may have skipped a generation. Even the uninspiring iGPU in the Ryzen 7 5700G has at least been tweaked upwards in regard to performance over the Ryzen 7 4700G. Whether the Radeon Vega 8 part in the Zen 3 Cezanne APU really is the "world's fastest graphics processor in a desktop processor" or not is a debatable topic as much as it is an ephemeral title, but UserBenchmark does show a very healthy gain of +45.67% for the Vega 8 5000 compared to the Vega 8 4000. The actual benchmark scores are unsurprisingly low as these are simple iGPUs being tested here but the overall result for the Ryzen 7 5700G shows a desktop APU flexing its Zen 3 microarchitecture muscles.
My interest in technology began after I was presented with an Atari 800XL home computer in the mid-1980s. I especially enjoy writing about technological advances, compelling rumors, and intriguing tech-related leaks. I have a degree in International Relations and Strategic Studies and count my family, reading, writing, and travel as the main passions of my life. I have been with Notebookcheck since 2012.