A new device called the Honor 10i hits SlashLeaks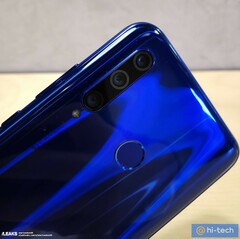 A recent post on SlashLeaks shows real-life images of a device with Honor branding. The poster alleges that it is of the brand's 10 line - however, it can't be the pre-existing 10 Lite, as it appears to have triple rear cameras. Therefore, its contributor has dubbed it the Honor 10i.
Honor's next flagship, likely to be named the 20, cannot be that far from release at this point. However, SlashLeaks has accumulated a post on a new device allegedly associated with the pre-existing 10 series. As this phone is described as containing the Kirin 710, a reader could be forgiven for thinking it is a re-hash of the Honor 10 Lite that is sold in India with this SoC. However, a glance at the apparently real-life images generates a very different impression.
This new phone, the "Honor 10i", exhibits a triple rear camera in some of its pictures. They appear to be a compound single module, whereas the two main shooters on the Honor 10 Lite have some space between them. The '10i' is associated with 24MP+8MP+2MP sensors in text running under these images, as well as a 32MP Selfie Camera. A third image shows a pretty conventional panel with a water-drop-shaped notch.
The SlashLeaks post also lists specs such as a 6.2-inch FHD+ IPS LCD display, 4GB RAM and 128GB storage. In addition, the apparent 10i's rear panel displays the AI Camera legend also seen on some of its immediate Honor predecessors. This material is attributed to SmartVenkat95 on SlashLeaks; however, it had also been found in an article by Hi-tech.mail.ru. Therefore, it seems that the Honor 10 line will have one last heyday before its 2019 replacements emerge.