3 mildly infuriating reasons why Apple should kill the Lightning cable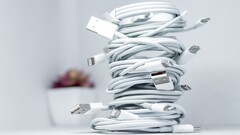 The choices and comments made on this list belong solely to the author.
1. USB 2.0? More like USB "two point slow"
Most Lightning cables on the market, including Apple's first-party version, are marketed as being capable of USB 2.0 transfer speeds ,which are capable of a paltry 480 Mb/s compared to USB 4.0 that can supports speeds of up to 40 Gb/s. While Lightning is in fact noticeably faster than the bulky 30-pin dock connector it replaced back in 2012, it's been a decade now and it's time to move on.
Apple's Mac lineup, the iPad Pro, iPad Air, and iPad mini have all moved on to USB-C. The 10th generation iPad, the 7th generation iPod touch, and the iPhone 13 lineup remain the only holdouts still sporting Lightning in 2022 presumably due to the pretty penny Apple gathers from MFI licensing fees.
2. "Turtlenecking"
It's not only Steve Jobs that rocks a turtleneck in the Apple world. The Lightning cable slowly adopts Jobs' iconic look after only a few months of use if users happen to bend the cord while it's plugged in. This can easily occur through normal use by resting a device on your lap or chest while it's plugged in.
Fraying can also occur if users repeatedly unplug the Lightning cord by tugging on the cable instead of the adapter or the reinforced bit of plastic beneath the connector. The bottom line? If you're not willing to take extra care of the Lightning cord that comes with your iPhone, be sure to purchase a more durable third-party cord.
3. Slow and impractical charging solutions
If you're the kind of person that prefers to keep your mouse plugged in to avoid the day-to-day nonsense of always making sure your mouse has enough juice, you should take a hard pass on Apple's Magic Mouse 2. Adding a Lightning charging peripheral on the bottom of the mouse is just another way for Apple to force its wireless agenda on those who would like to keep things simple by staying wired in.
The Magic Mouse is rendered useless while charging and the lack of USB-C fast charging means a full charge will take a whopping 2 hours. Even worse is the original Apple Pencil charging solution, which requires users to plug the pencil directly into the iPad leaving it liable to accidentally breaking off, damaging the Apple Pencil, and potentially rendering the Lightning connector itself unusable or in need of serious repair.
Self-proclaimed coffee connoisseur and tech enthusiast Brahm Shank is captivated by the impact of consumer tech: "It's profoundly moving when people discover that the phone in their pocket or the tiny computer on their wrist has the power to enrich their lives in ways they never imagined." Apple, Inc. and its unique position at the intersection of technology and the creative arts, resonates deeply with Brahm and his passion for helping people unleash their potential using technology. Over the years, Brahm has held various podcasts - including famed technologist David Pogue of The New York Times on topics such as Big Tech and digital wellness.