iPhone shipments in China fell 35% in November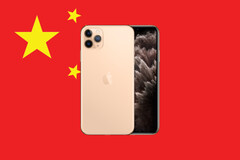 The iPhone may be doing well in Western markets, but the handset saw a massive 35% year-over-year drop in shipments in China last month. This news from Credit Suisse analysts flies in the face of prior predictions from Apple and others that claimed the iPhone 11 would do well in Chinese markets due to high demand. The most likely cause for the drop in sales lies at the feet of policy; the ongoing trade war between the U.S. and China has driven iPhone prices up in the mainland, likely killing demand in the process.
The iPhone brand is wildly popular in the United States, but China's reception of Apple's handsets has been relatively cool of late. In November 2019, iPhone shipments dropped 35.4% in China compared to November 2018, drawing questions about Apple's strategy in one of the largest consumer markets in the world.
That 35.4% drop comes from a report from analysts at Credit Suisse that was distributed earlier today. November wasn't the only rough patch for Apple this quarter; the report also claims that Chinese iPhone sales declined 10.3% year-over-year in October.
The iPhone 11 family has largely fallen flat in China. Overall shipments since the iPhone 11's launch are down 7.4% year-over-year, and the analysts estimate that total iPhone revenue in China fell by at least 17.5% year-over-year since September.
The analysts offered a few reasons for the decline in iPhone sales. Primarily, the ongoing U.S.-China trade war has heavily impacted the import of U.S. goods into mainland China. The iPhone 11 was marked up between 10-12.5% compared to U.S. prices when it was launched in China in September. The iPhone 11 Pro and Pro Max were priced between 18.6-23% higher than their U.S. counterparts.
In addition to the increased prices for imported goods, Chinese OEMs have become extremely competitive over the past few years. Not only do Chinese OEMs operate on razor-thin margins to undercut competitors, but they also do not have to deal with import tariffs. As such, local manufacturers can sell their handsets significantly cheaper than the iPhone. In a market where most consumers are cash-strapped, every penny counts.
Analysts from Apple and other companies were optimistic about the iPhone 11's launch in China due to the perception of higher demand. It seems that the trade war has had a greater impact than Apple originally anticipated. The Colossus of Cupertino may need to rethink its East Asian strategy if Trump and Beijing continue their trade war policies.