The iPhone 11 Pro requests user location even when app and service permissions are disabled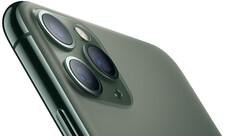 Due to copious amounts of data collected by Google from smartphones running Android, iPhones are often seen as a more privacy-conscious option. One of the key comparisons is the relative ease of disabling all location requests on iPhone, compared to the various hoops you must jump through on Android, but that appears to be less clear-cut with the iPhone 11 Pro.
KrebsOnSecurity has found that even if the user disables location permissions for all individual app and iOS services, the iPhone 11 Pro continues to access location data. These hidden services that can't be disabled could be contrary to Apple's privacy policy, which suggests this method is adequate to disable all location tracking.
An Apple representative has told Brian Krebs that this is intended behavior for the iPhone 11 Pro and that there are system services that request location data but which can't be toggled in the location permission settings. This behavior couldn't be replicated on an iPhone 8, indicating that there is something hardware related with the iPhone 11 Pro that causes this. A video made by Krebs showing this behavior when toggling flight mode is embedded below.
Using the master toggle to disable all location services did stop location requests made by the iPhone 11 Pro, but this method breaks any location-related features and interferes with the user's ability to select which services are allowed. However, we do appreciate that there is still a way to disable all location requests and that the software is honest about flagging access even for hidden services.