Auto-delete your Google Location History with this new setting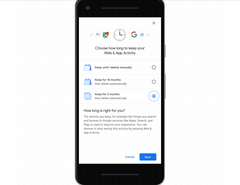 Google offers the option to store a timeline of places in which a user's location-enabled phone has been. The account-holder in question can also disable this ability and delete this information if they choose. The latest update to the app involved adds buttons that automates this procedure after 3 or 18 months.
The Google account app in Android or iOS is capable of displaying a remarkable range of data on user ID or behavior. In fact, it is often difficult to prevent it from doing so unless certain settings are turned off or disabled. Some of them apply to the category of Location History within the app.
This area of a given account can build a comprehensive timeline for a user based on where they go with their phone's GPS turned on. However, the same user can delete this history within the app. On the other hand, there may be those who don't want to have to keep track of what Google knows about their own movements through regular app checks.
To this end, Google has introduced a new setting by which Location History can be stored for either 3 or 18 months. The relevant data is automatically deleted after the chosen time period. Alternatively, the user can opt to delete their history by themselves.
The Mountain View company has announced that this new update is being rolled out to Google Account app holders today (June 26, 2019) via Twitter. The new options in question may alleviate privacy concerns for many users with this software on their devices.