Apple's iPhone 11 is the most popular piece of tech in 2019, according to Google Search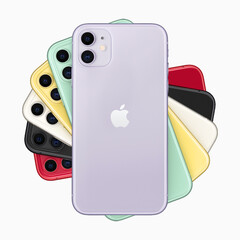 As surprising as this might be for many of us, "iPhone 11" was the only tech-related search in the global top 10 queries that people entered on Google Search this year. Ranked fifth globally, Apple's handset only managed to grab the ninth spot in the most popular Google Search topics stateside.
Often labeled as the best iPhone for its price currently available on the market, the iPhone 11 seems to be the most popular smartphone in Google Search. While this is not something that came out of the blue, the more surprising part is that no other smartphone or technology topic managed to grab the attention of enough Google Search users to enter in the top 10 general searches, both globally and in the United States.
Looking at the global Google Search trends for 2019 so far, "iPhone 11" sits on the fifth position, in front of popular movies/franchises like Game of Thrones, Avengers: Endgame, and Joker. In the United States, it's even worse — Apple's handset barely managed to make it in the first 10 general searches, ranking ninth. Some of the more popular searches are Hurricane Dorian (fourth), Luke Perry (sixth), as well as Avengers: Endgame and Game of Thrones on the seventh and eighth positions.
As shown in our in-depth review, the iPhone 11 is more than just an affordable Apple handset, its Geekbench CPU scores placing it well above Android flagships like the Xiaomi Mi 9 and the LG G8s ThinQ. Performance aside, Apple's most affordable handset of the latest generation also provides an excellent battery life — 49 percent better than the Samsung Galaxy S10e and 29 percent better than the LG and Xiaomi handsets mentioned above.