CES 2020 | Wacom launches a new, entry-level 13-inch creators' display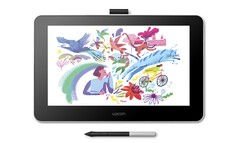 The Wacom One is a new, 13-inch digital-art display. It has an FHD panel and in-built, foldable legs for various modes. It is aimed at those looking to get into electronically-enhanced or -generated art, and can also leverage Microsoft Office features with its corresponding pen.
Wacom, one of the best-known names in screen-aided creation, has announced its latest slate for artists, the One. It has a 13-inch FHD panel with 72% of the NTSC color gamut. It also integrates the pressure-sensitive technology for which this OEM is famous.
This aspect of the Wacom One may ensure precision and intuitive use while using the styli with which the tablet is compatible. They will be made by companies such as Staedler and Samsung, but also include the pen that comes in the box with this display. It integrates Electro Magnetic Resonance (EMR) technology, which enables this Wacom accessory to recharge without the need for a battery or cable.
The Wacom One can pull content from the Windows, Mac or Android operating systems for editing or augmentation with the advantage of a dedicated tablet form-factor. It can use the pen-related functions of certain suites, Microsoft Office included.
This new display also comes with a free copy of Wacom's note-taking app, Bamboo Paper, as well as up to 6 months' worth of access to Celsys' powerful drawing software Clip Studio Paint Pro. Wacom has stated that the One will become available in January 2020, and will have a recommended price of US$399.95.