Vivo may release an Exynos 980 version of the Z6 5G: new leak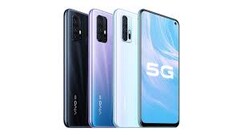 According to a new Geekbench leak, Vivo has a phone with a 5G-as-standard SoC, 8GB of RAM and Android 10 on the way. However, the OEM already has released a phone of this description: the Z6. The only apparent differences between the 2 are their model numbers and processors.
Vivo recently launched the Z6 (or V1963A), a phone designed around the dual-band 5G-capable Snapdragon 765G SoC with Android 10 and an 8GB RAM variant. So far so normal for 2020: however, it seems the OEM is about to release what seems like the same device but with a different chipset.
This, according to a new entry on the Geekbench 5 database, is powered by the Exynos 980, which also supports dual-band 5G by default. It too has 8GB of RAM and runs the latest version of Android.
Therefore, given its model number (the "vivo V1962A"), it seems this is a new variant of the Z6. So far, it exhibits slightly better single-core scores compared to the V1963A on this benchmark, although the older phone generally has better multi-core results.
However, additional rumors suggest the "V1962A" will be called the S6 on its release. It would be reasonable for Vivo to cover all its novel SoC bases this year - although it does in fact have a pre-existing 980-based X30 smartphone series. Then again, this may be a convincing basis for this new Geekbench listing to really be the S5's successor on its launch.