Unbeatable Ryzen Threadripper 3990X and formidable Ryzen 9 5900HX head AMD-dominated desktop and laptop processor performance charts but Intel retains market stranglehold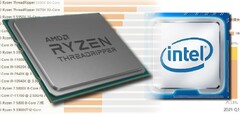 It's a story that has been repeated for quite some time now: Synthetic benchmark site releases data revealing AMD Ryzen processors filling high places in performance charts but Intel still maintains a huge lead in processor market share. New charts published by Master Lu have offered another insight into this situation, with Team Red topping both the desktop processor performance chart and laptop processor performance chart with the Ryzen Threadripper 3990X and Ryzen 9 5900HX, respectively.
There are some noticeable omissions from the charts, as the data is based on units with 5,000 or more test results. As is pointed out, the monstrous 64-core AMD Ryzen Threadripper 3990X leads the desktop chart by a huge margin but could be threatened by the Ryzen Threadripper Pro 3995WX, once enough samples of the latter have been tested. For now though, the TR 3990X is +34.34% ahead in terms of score over its nearest rival, the TR 3970X. The 64-core beast is also +61.50% in front of the AMD Ryzen 9 5950X and an astonishing +86.93% ahead of the best-performing competitor from Team Blue, the Intel Core i9-10980XE.
While AMD is left gobbling up six of the top 10 positions for the desktop CPU chart (Intel's new Rocket Lake part i9-11900K manages ninth place), the laptop processor performance table has Team Red occupying eight out of the top 10 places. Five Ryzen 5000 Zen 3 chips take the top places, with the Ryzen 9 5900HX leading the charge, while there is a rearguard made up of Ryzen 4000 Zen 2 processors. Intel manages to separate the block of AMD chips with the decent Tiger Lake-H parts i7-11375H and i7-11370H. The score difference percentage between the Ryzen 9 5900HX and Intel Core i7-11375H is a considerable +23.24% though.
However, when it comes to Master Lu's "hot" lists, Intel is back big time, in both the desktop and laptop spaces. The desktop CPU chart for sales is led by six Intel chips in a row, and while AMD leads the laptop processor table with the Ryzen 7 4800H, there are still seven Team Blue parts in the top 10. Lastly, the Q1 2021 processor market share is revealed at 24.49% for AMD and 75.51% for Intel. There is an improvement of +2.61% for Team Red from Q4 2020, but as the machine translation of the Master Lu post aptly puts it: "Some people shouted AMD YES in their mouths and held Intel in their hands".
My interest in technology began after I was presented with an Atari 800XL home computer in the mid-1980s. I especially enjoy writing about technological advances, compelling rumors, and intriguing tech-related leaks. I have a degree in International Relations and Strategic Studies and count my family, reading, writing, and travel as the main passions of my life. I have been with Notebookcheck since 2012.