Thousands sign petition in response to news that the Huawei Nova 3i will not receive EMUI 10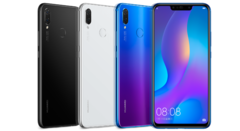 While many other Kirin 710-powered smartphones have now received EMUI 10 and Android 10, Huawei has frozen out the Nova 3i. The official confirmation that the device will not be getting a second OS upgrade has clearly irked some fans and owners of the handset, with thousands joining forces to demand that EMUI 10 reaches the Nova 3i.
The decision by Huawei not to upgrade the Nova 3i to EMUI 10 has proven an unpopular one. Citing hardware limitations, the company confirmed to fans on Twitter that the device would remain on Android 9.0 Pie indefinitely. Worse still, the Nova 3i has only received one OS upgrade following its release on Android 8.1 Oreo in August 2018.
Unsurprisingly, fans and owners of the handset have tried to make their voice heard online. Now, thousands have taken to Change.org in response, with over 4,000 signing a petition named "Give Huawei nova 3i emui 10". While we doubt that this will necessarily persuade Huawei executives to change their minds on the matter, it does show how frustrating some people have found this decision.
Ultimately, a newer OS will not fundamentally change the functionality of a device. However, dropping software support after one OS upgrade seems overly harsh. It does not help that Huawei is yet to explain what hardware limitations are preventing it from upgrading the Nova 3i to EMUI 10. The fact that other Kirin 710-powered devices like the Honor 8X and P Smart (2019) have received Huawei's latest OS makes it unlikely that there is an SoC incompatibility at play here.